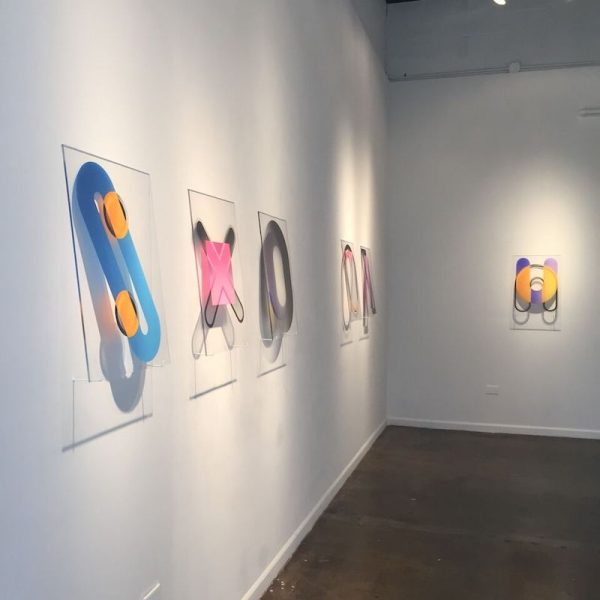 Loring Taoka's Counteract, on view at Galleri Urbane in Dallas, introduces new compositions of Taoka's signature vector-style logos, spray painted in bold colors onto Plexiglass sheets. The shapes he works with are evolutions — permutations on his efforts presented just a few seasons ago with the same gallery, but the introduction of color plays with negative space in new ways. The result is a logical next step towards the maturation of the work as contemporary painting.
Taoka grounds this show in the tromp l'oeil practice of illusionistic representation. His shapes are almost definitely digitally designed, stenciled in vinyl and blasted onto the plastic with the intense colors he has previously avoided. The geometric forms spent onto the substrate deny a surface, while the Plex is installed to jut out from the wall. These works look like a product of some deliberate graphic design aesthetic, but the artist's intention of sticking to more traditional media makes the viewer rethink the effect. I'm all in favor of it. The works are always untitled, with some accompanying tag that describes their architecture, such as 'rectangle overlapping two stadia.' It seems that Taoka is primarily concerned with form, or is testing a vocabulary to canonize the work. Regardless, he's moving marvelously toward (technically) owning paint on Plexiglass, while the strange conceptual brew of "design meets art" stews underneath.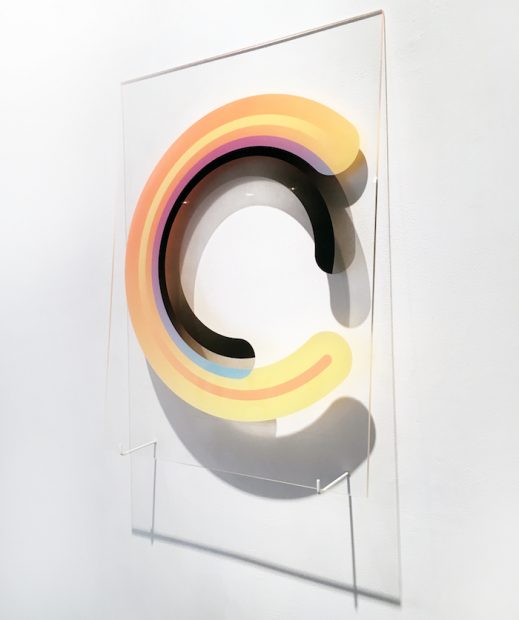 I've often felt that the use of transparency in traditional media reflects the legitimization of digital art. In Toaka's work here, the alpha channel of video is suggested in the glassine views through the negative space surrounding the paint. These symbols fall into a familiar category of digital artists working similarly, such as Isiope — tight geometry arches alongside electric colors. Abstractions that are derived from math.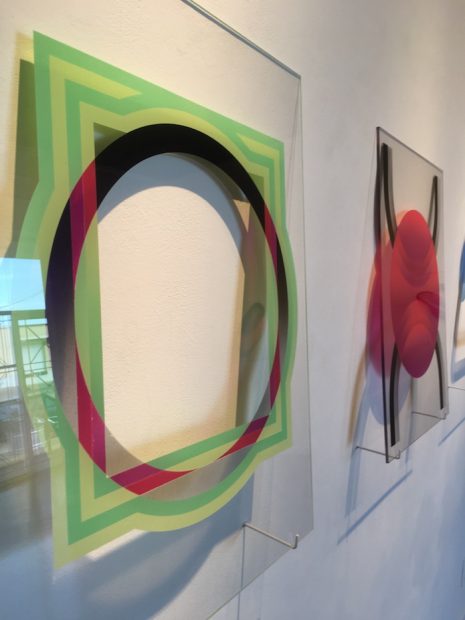 These pieces move past their monochromatic ancestors. Rich gradients and parabolas stop just short of completely hiding the artist's hand in the paint. In most of the works, the geometry is intersected by some sharp-angled, overlapping frame that cuts into the center of the body, converting their curves into dazzling reds, oranges, cobalt blues, and pinks.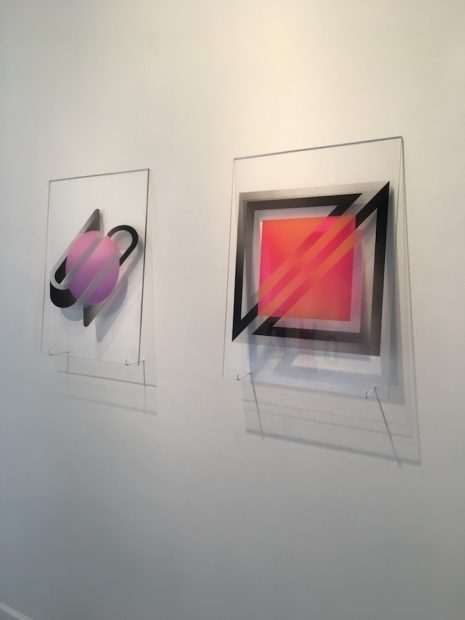 As with with other works that involve paint applied to acrylic, I'm skeptical of the archival lifespan of these paintings. Perhaps that comes into the conversation when or if these compositions are seen as mirroring digital art: software and digital video artists have to contend with bit rot 10 or 15 years on. Yet the stenciled forms and their precise gradation makes me root for the future of Taoka's work; let's see how far he can take these compositions to insinuate or push against the notion of 'representation.' He's proved he's evolving. The diversity in this series shows that there's more to chew on, in size and quality, since Taoka's show Soft Edge with the same gallery in 2016.
On view through March 24, 2018 at Galleri Urbane in Dallas.