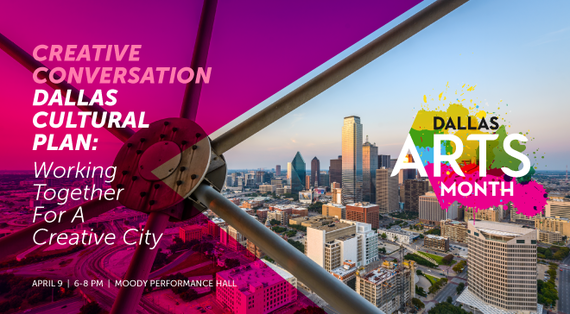 Every April is Dallas Arts Month, along with Dallas Arts Week (which begins this year on April 9), and it lines up with the annual Dallas Art Fair (in its tenth year for 2018) along with Dallas' museums and institutions pulling out the stops for visitors to the city in the spring. This year, the fifth annual cultural panel discussion organized by the Mayor's Office takes place on Monday, April 9 and is titled Creative Conversation, Dallas Cultural Plan: Working Together For A Creative City.
The event kicks off with a Cultural Plan Update, presented by Mayor Mike Rawlings and Joy Bailey Bryant, of Lord Cultural Resources. The panel discussion follows, moderated by the Dallas Morning News' Michael Granberry, and includes panelists Kelley Lindquist, President of Artspace; Lola Lott, Principal & CEO of Charlieuniformtango and Co-Founder of Arts Mission Oak Cliff; Kimi Nikaidoh, Artistic Director of Bruce Wood Dance Project; and Michael Tregoning, President of Headington Companies.
Via the Office of the Mayor: "This year's Creative Conversation will share the emerging insights from the 2018 Dallas Cultural Plan process and featuring thought leaders on issues such as artist housing, entrepreneurial support for the arts and corporate philanthropy to discuss how Dallas can reach its cultural potential."
The event takes place on Monday, April 9 from 6-8 PM at Moody Performance Hall in the downtown Arts District. The event is free, but you need to register, which you can do here.