San Antonio, my darlin', you're driving me insane. And beautifully so.
Celebrating its 300th birthday this year, the city that either Mark Twain or Will Rogers identified as one of the four unique cities in America is buzzing with so much artistic activity that one can barely, ya know, comprehend, keep up. And of all the cool and curious burgs in our immense, mysterious land mass masquerading as a mere state, San Antonio is the one where it makes the most sense for some contemporary art content to explore the past and its powerful hold on the present.
Human activity in the area, of course, goes back a lot longer than three wee centuries. Gathering at the Waters — 12,000 Years of People, one of three Tricentennial exhibitions at San Antonio's brightly restructured Witte Museum, offers evidence of prehistoric people camping and congregating around local rivers and springs. We value the shards, bones, and other artifacts unearthed by archeologists for the information they provide about the lifeways of those who came before us, but I sometimes like to view them, supplementally, as a form of abstract, inadvertent sculpture unshaped by human intervention.
Gathering exhibits stone blades, scrapers, knives, shell pendants, baskets, conch shell gorgets, red and yellow ochre, and other fragments of tools, domestic items, and decorative material from the distant Clovis and Folsom cultures and from more recent Toyah people. Several paintings by Frank Weir envision burials, trading sessions, and the San Antonio area meeting of Payaya people with the 1691 Spanish expedition led by Domingo Terán de los Ríos, the first governor of New Spain's province of Texas. Weir had a long career in archeology with an education that mixed art studies with archeology and anthropology. Many examples of his work bring ancient cultures to life on the most comprehensive website about Texas archeology.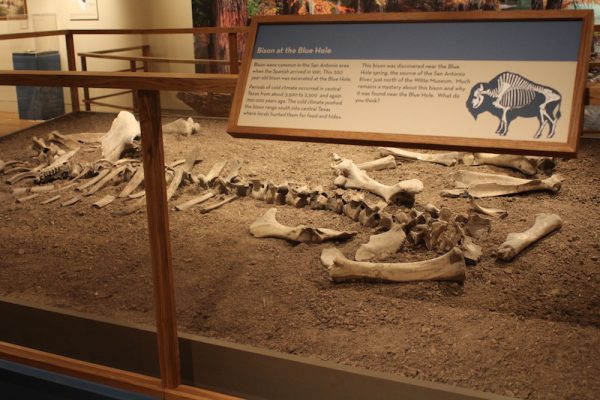 When the Spaniards first began establishing settlements near San Pedro Springs and the San Antonio River, it was not unusual to see bison in the area. The Gathering centerpiece cradles the skeletal remains of a buffalo excavated near the Blue Hole, the spring near the Witte that historically gave rise to the river and still flows after abundant rain. The animal is believed to have died there 300 years ago.
Sound artist and URBAN-15 cofounder George Cisneros created The Cacophony, a 41-minute, tape-looped audio collage structured in movements, for the entry gallery to the Witte's largest Tricentennial exhibition, Confluence and Culture: 300 Years of San Antonio History. The non-narrative "sonic history of San Antonio" includes recordings of everything from horses, rain, and waterfalls to buses, trains, airplanes, and helicopters. Cisneros recorded voices of greetings and thanks in some 17 languages, including Coahuiltecan, Lipan Apache, Polish, Spanish, Czech, Korean, and Vietnamese. Video artist Erik Bosse added vintage images that flicker and float across the walls and floor.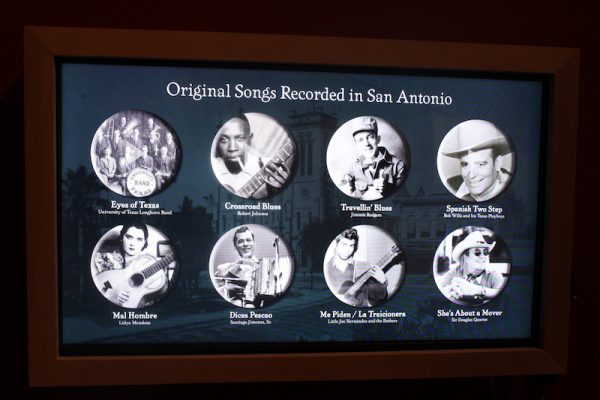 The exhibition's lively stroll through three centuries covers everything from faith and the missions, the cattle industry and ranching, water, shelter, social structure and the military to relations with Native Americans, the Mexican Revolution, the lesser-known 1813 Battle of the Medina (after which 100 Tejano revolutionaries were executed by the Spaniards on San Antonio's Main Plaza), Emma Tenayuca's leadership role in the 1939 pecan sheller's strike (the largest labor action in local history), and much more. The podium from which President John F. Kennedy gave an address in San Antonio on November 21, 1963 stands beside a video of the speech. A 1906 electric car on display was forever garaged after its owner hit a pedestrian at Main Plaza, and a snappy graphic chronicles landmark music recorded in San Antonio.
Gleaned factoid: Prior to the Texas Revolution, Tejano leaders José María Balmaceda and Rafael Antonio Manchola advanced the first legislation within current American borders to establish community property rights for women, child adoption, veteran land grants, and homestead laws for pioneers.
Confluence and Culture deploys a number of oft-seen-but-always-appreciated paintings and drawings from the Witte collections. Théodore Gentilz (1819-1906), whose work provides a rich and extensive portrait of 19th-century San Antonio, is represented by several oils, including Tamalero, Comanches on the War Path, and El Aguador. Gentilz' ubiquitous Fandango is reprinted in a textual panel.
I was especially glad to see again the original canvas of Market Plaza by Thomas Allen (1849-1924), who visited San Antonio during his 1878-79 tour of the West, shortly after the city was at last connected to the rest of the country by rail. The many reproductions of this work have been plagued by color brightness issues that range from drab and washed-out to over-juiced and garbled. The painting depicts the daytime scene on Military Plaza, which through the 1880s reigned as "the liveliest spot in Texas" with a torch-and-lantern-lit bazaar and a carnival nightlife that included mesmerizing performances by medicine men with names like the Diamond King and Yellowstone Kit. Allen's work depicts a part of the daytime farmer's market and the long tables where locals and travelers dined al fresco on chili-con-carne, tamales, and enchiladas sold by the famed chili queens.
Artists naturally found the Alamo and the city's four other Spanish Colonial missions irresistible. Mission San Jose by William Aiken Walker (1839-1921), painted during the artist's two-year sojourn in Galveston and San Antonio in the mid-1870s, reveals the romantic structure in a state of graceful ruin before its 20th-century restoration. The Alamo, an 1849 watercolor by Seth Eastman (1808-1875), a career military man dispatched to Texas against his will, also captures its mythologized edifice in a state of elegant ruin and years before the U.S. Army crowned the fortress/church with its now familiar parapet.
Cecilia Steinfeldt chose the 1862 oil painting The Terry Rangers by Carl G. Von Iwonski (1830-1912) for the cover of her 1993 book, Art for History's Sake: The Texas Collection of the Witte Museum. Born in Germany, the artist lived in New Braunfels and San Antonio after immigrating in 1845. Among the young men galloping off to war, the skyline of San Antonio in the distance, is Sam Maverick Jr., raising his canteen aloft and rearing his horse with a freewheeling spirit.
I never tire of seeing 'Davy Crockett's fiddle' in exhibitions, though Confluence and Culture signage tamps down the provenance claims, specifying only that the instrument was passed down through the Crockett family. Of great interest personally, this was the first time I'd also seen acknowledgment that there are rattlesnake rattles inside the fiddle. This was a common folk practice based on a variety of reported beliefs, such as the rattle improving the fiddle's tone, absorbing moisture, etc.
The third Tricentennial exhibition at the Witte, Connecting Texas: 300 Years of Trails, Rails, and Roads, explores movement throughout those three centuries. It includes a wide variety of historic maps that embody their own abstract visual delight.
Another Tricentennial exhibition, St. Anthony's Lost & Found: A Poetry Exchange, presents work by 18 artists and innumerable poets at the City of San Antonio's Culture Commons Gallery on Military Plaza, next door to the Spanish Governors Palace. Organized by the city's recent poet laureate Jenny Browne, the show explores through language and image how we relate to, remember, and recover that which has been lost, both in the built environment and our interior worlds. (St. Anthony is the patron saint of lost things.) Intermittent slide projections in the main gallery and prompt cards in a hallway angling from the gallery exhibit dozens/hundreds of short poems written by students and gallery visitors. Ana Fernandez' watercolors evoke such lost scenes as the Westside landmark F. A. Chapa Drugstore, El Nacional Teatro, and the combination gas station/rooftop dance hall La Gloria #3. 
The elaborate casa of immigrant physician Aureliano Urrutia, the inspiration for Fernandez' watercolor Miraflores and La Quinta Urrutia, "looked as if it had been there since the beginning of time — even though it only dated to 1921," as John Phillip Santos wrote in a booklet accompanying the exhibition. The home is long gone, but a remnant of Urrutia's garden, Miraflores, remains at Hildebrand and Broadway. The garden opened this past Thursday, March 29, 2018, for a Brackenridge Park Conservancy fundraiser and may soon be restored and reopened to the public. The tiled archway that once stood at the entrance to Urrutia's estate can be seen at the San Antonio Museum of Art. "The extensive jardines were said to be recreated based on the legends of the garden of the poet-cacique Nezahuatlcoyotl," Santos wrote, "and if you wandered there long enough, you would encounter a stone bust of the goddess Coyolxauqhui, then a stone bench from the palace of the conquistador Cortez himself."
I nightcapped this San Antonio run at Artpace for the openings of Contemporary Art Month Perennial, curated by Adonay Bermúdez of the Canary Islands, and International Artist-in-Residence exhibitions curated by Risa Puleo. The work of Perennial artist Luna Bengoechea of Gran Canaria, Spain focuses on global food issues, and her Artpace floor installation underscores problems caused by NAFTA. Imports of American corn have tripled under the agreement, and Mexico's small producers of the traditional staple have suffered greatly. Bengoechea's Sin maíz no hay país / Without corn there is no Country is a mandala, or corn painting, of a five peso piece adorned with an effigy image of  Cuauhtémoc, the last Aztec emperor. The Perennial works will later appear at a Canary Islands art space.
The work of residency artists Carlos Rosales-Silva (Austin) and Rafa Esparza (Los Angeles) concerns assimilation into and resistance to American culture, which Rosales-Silva describes as "perilous" and "conditional." His work "drains all direct representation and displays only colors and form," an approach that allows him "to study the color and form of his identity while withholding easily exploitable imagery."
Esparza's primary physical material is adobe, which his father utilized as an architectural substance as a young man in the Mexican state of Durango. The artist son has used adobe "to build spaces that confront the architectures of the white cube." For his Artpace environment, With Land, Esparza created an adobe floor of dry, cracked earth and adobe panels that adorn the walls. Small, sphinx-like adobe dogs sit in tiny majesty upon the earthen floor. The effect helped me to imaginatively reenter the universe depicted in a diorama of early San Antonio I'd seen at the Witte earlier in the day, but With Land infused the there experience with a more immediate, searing impact of cultural — and intimate — loss and reclamation.
Esparza describes the installation as "a meditation on the ways our bodies and land are targets of white supremacy and its violence." For his opening, the artist organized a pair of electrifying performances by City of Angels colleagues. Brilliantly blue in a velvet dress embroidered with hummingbirds, created by L. A. designer Olima, El Sancha performed Chuparosx, a thunderous, blazing set of rancheras that surely alerted the fugitive skulls of Geronimo and Pancho Villa. Moving around the gallery during her performance, at one point she sang beneath a kind of CowboyDiscoVegas hat with four layers of fringe suspended beneath it.
For Violent Erotics: A Dream With A Vaquero, Sebastian Hernandez appeared in boots, black leather pants, silver studded black belt, black Western shirt, tan vest equipped with empty rifle cartridge pockets, and a cream-colored cowboy hat topped with cut-out lettering that read "WILD" on one side, "DESIRE" on the other, and "1836" on the back. Blindfolded at first, he crawled across the adobe surface as though cast into a dream state somewhere in the lost desert between Mexico and the land that once was greater Mexico, once Nueva Espana, once the vast domain of indigenous peoples unencumbered by European contact. When he found gallery viewers' feet, the performer climbed up their bodies, embraced them, and swayed lightly as though clinging to some desperate post of erotic redemption. After establishing that gestural movement of the piece, the performer produced a lighter and set the lettering atop his Stetson on fire. As "WILD DESIRE" 1836 curled in flame, he stepped out of the gallery and into a courtyard.
When the performer returned, aflame no more, he produced a knife and began slashing the cowboy hat off of his head. Then he plunged the blade into his boots and ripped them apart, yanking the symbolic and physical shackles of colonialism off his feet. Leather pants, adios. Vest, shirt, vamoose. Wearing flesh-colored underwear, he donned earth-toned sandals and strode from the gallery, restored to a pre-contact, indigenous purity, treading lightly in the house of earth.
Gathering at the Waters: 12,000 Years of People is at the Witte Museum through July 1.
Confluence and Culture: 300 Years of San Antonio History runs through January 6, 2019.
Connecting Texas: 300 Years of Rails, Trails, and Roads runs through September.
Saint Anthony Lost & Found: A Poetry Exchange remains on view at Culture Commons Gallery through April 26.
Contemporary Art Month Perennial is at Artpace through May 6.
Spring 2018 International Artist-in-Residence exhibitions is at Artpace through May 13.
Gene Fowler is aware that San Antonians don't generally refer to their city as San Antone. But tell it to Charley Pride singing the classic Is Anybody Goin' to San Antone? in 1970.