In north Houston, between the 610 Loop and Interstate 45, there's a four-and-a-half-mile long stretch of road that has a distinct visual culture. Bordered by mechanic and tire shops, this strip of North Shepherd Drive is peppered with brightly colored ad-hoc objects that force themselves into your sightline through sheer will. The painted tires and sculpture-like assemblages fronting the small businesses along the road are so readily visible because that's their function — they're signs that can be grasped in a drive-by moment, symbols of the businesses from which they spring.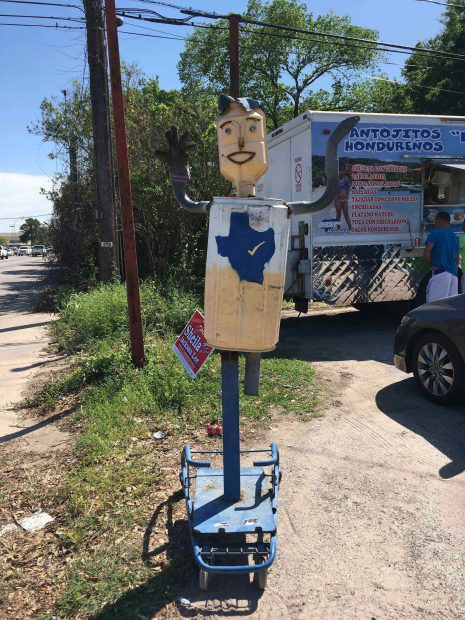 I've driven by these signs and symbols for years and always wondered about their impetus. While the objects' roles as advertisements and DIY signs are the obvious answer, so many of the pieces have an extra-purposefulness about them, an agency that is a byproduct of their realization. In an attempt to learn more, I set out to north Houston to talk to the stations' proprietors, many of whom, when creating their signs, share a sensibility with folk artists.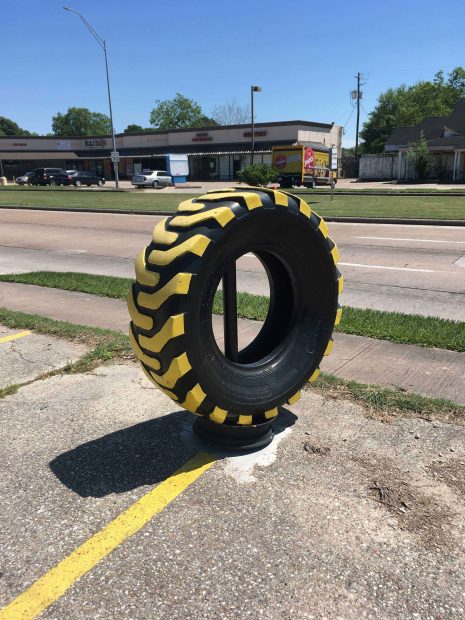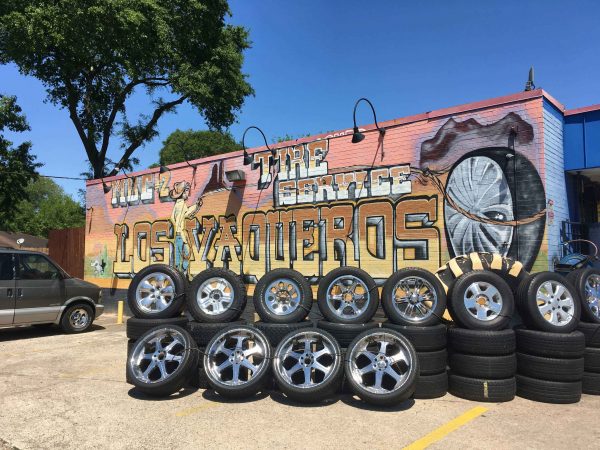 One man I talked to said that when he was younger, his grandfather explained to him the importance of symbols — everyone knows a building adorned with a cross is a church. One way to market your business is to use the tools of your trade, a practice that's commonplace for shops in this stretch of town. His tire showed a delicate touch: it was only painted yellow on its treads, giving it the air of a mutant bumblebee. And his parking lot featured tire stacks that acted as pedestals for displaying the various rims he offered.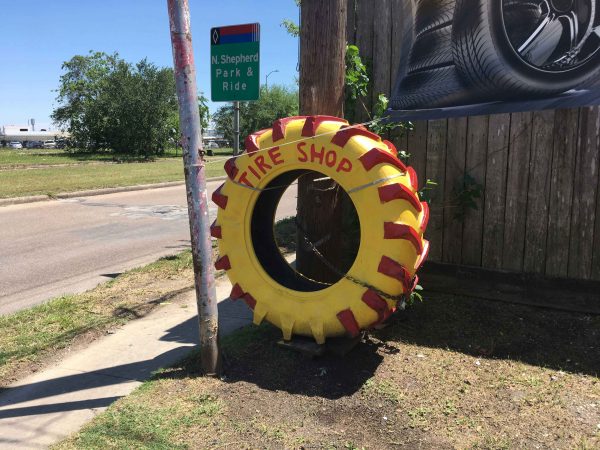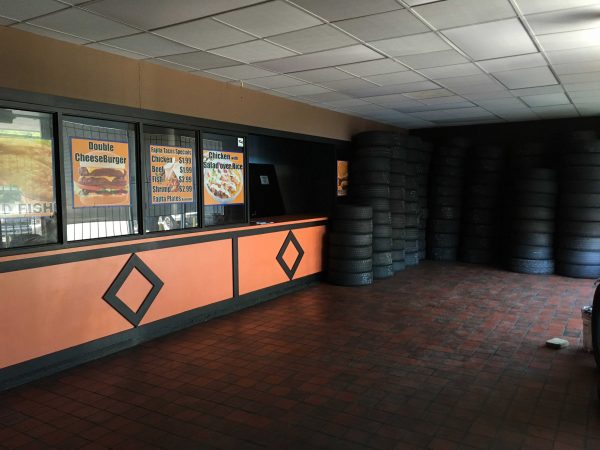 Another shop was only a week old and still held relics from its former life as a halal fried chicken restaurant. The interior of this space was raw, and the pairing of fast-food posters with looming stacks of tires gave the space a surreal air. (Apparently the painted tires out in front of the building, despite signaling that the business is, in fact, a tire shop, hadn't fended off hungry customers. The owners said they had people come in looking for lunch.)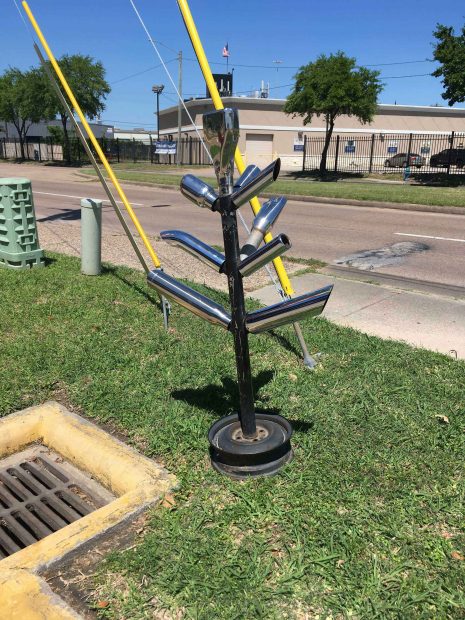 Further down the street, outside a muffler shop sat a small tree made out of, yes, mufflers. Unlike some of the other improvised signs, which aimed to be as big and bright as possible, this piece had a delicateness about it, almost comparable to the reject tree from A Charlie Brown Christmas.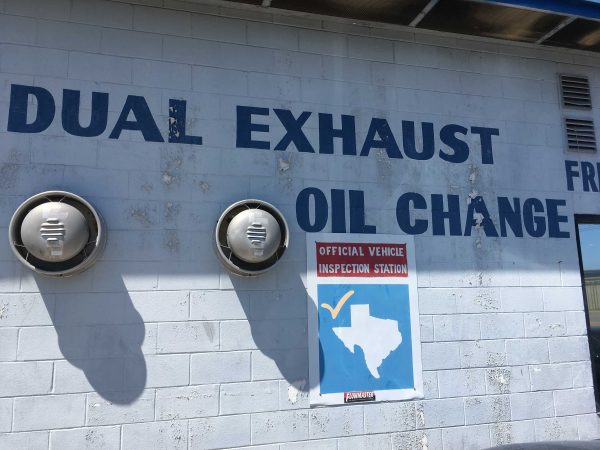 On the side of this shop was another artistic detail that is pervasive in this neighborhood: a hand-painted state inspection sign. In this sign, the notoriously hard-to-draw Lone Star state is a warped vision of its true self. (Once you start looking, you'll notice these all around Texas. There's even an Instagram dedicated to them.)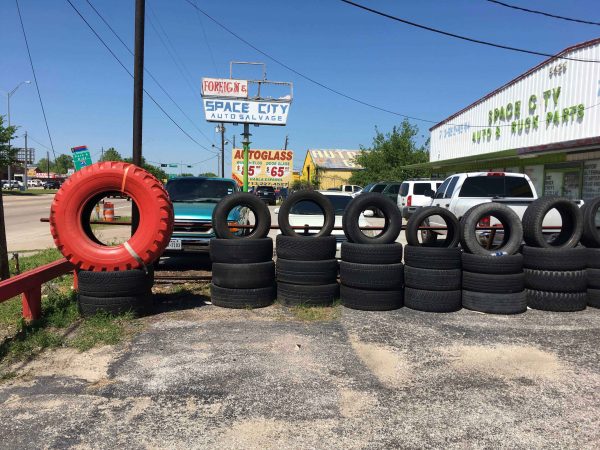 Another proprietor of a shop on Shepherd said that red was his favorite color and that that was why his tire wasn't instead painted the more ubiquitous yellow. When I asked him why there weren't any words on his tire, he said that the city doesn't allow lettering, because then the tire would be considered a sign, which requires a permit. This explains why so many of the tires on the highly trafficked street are monochromatic and unlabeled — they're not too big or flashy, and they get around the confines of the city's sign ordinance while still managing to pull customers in.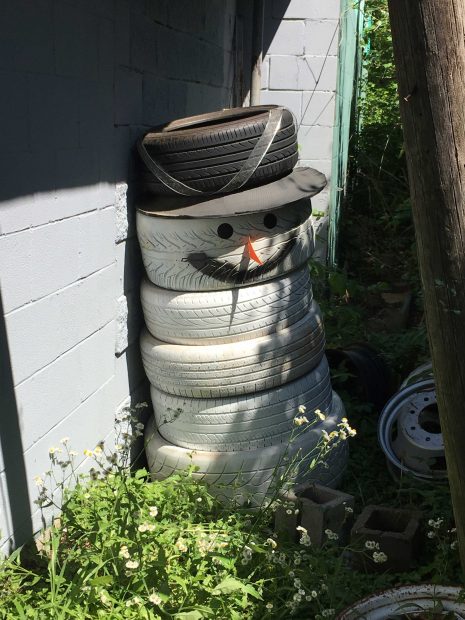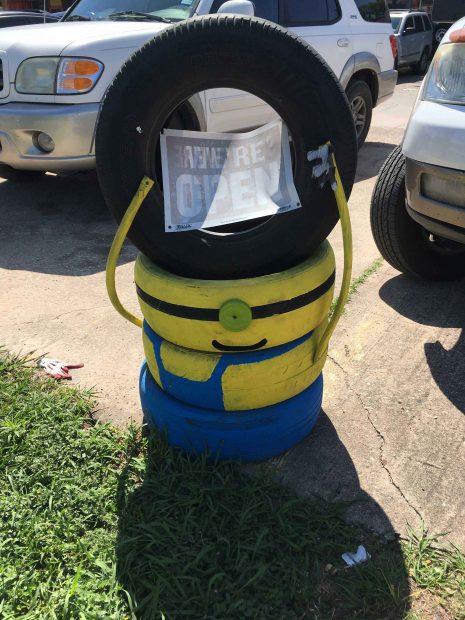 Two other shops nearby go a bit further in their tire displays — one puts out a snowman in the winter, and another perpetually exhibits three tire Minions in its parking lot. Similar to rural rest stops and highway tourist attractions, the sculptures invite passersby to stop and interact. The man who made the snowman said that he got the idea off Pinterest, although he insisted he wasn't "all that artsy fartsy."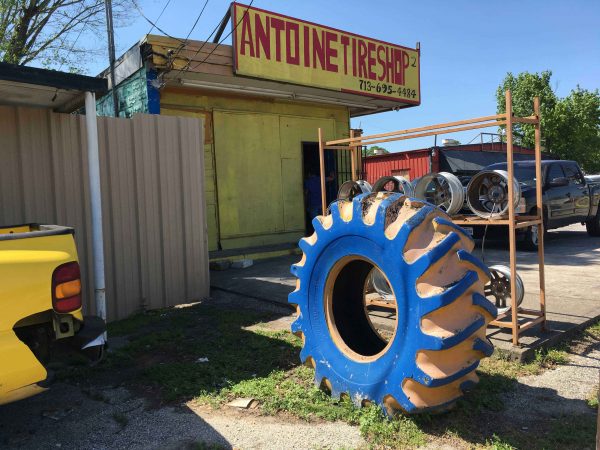 While everyone I talked to spoke about the painted tires as affordable advertising tools, there's a deeper cultural consciousness at play. The tires and other elements on view in this neighborhood are a piece of Americana merged with the creative sensibilities of the owners and operators of the tire and mechanic shops, many of whom are Latinx. In the case of North Shepard, the shop symbol breaks the language barrier; it's a modern-day pictograph that's painted to grab your attention. And these signs are living on borrowed time.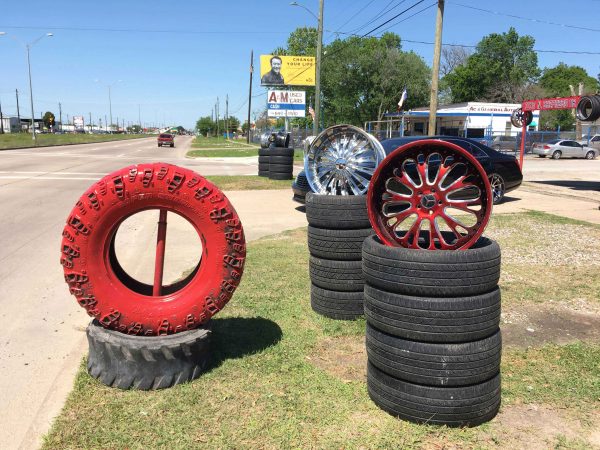 Though there's been a renaissance in hand-painted signs (the Houston Center for Contemporary Craft recently hosted an exhibition expounding on this subject), the homemade, DIY aesthetic of these businesses is something that will soon fade away. As developers and upscale restaurants move north of the loop, and hipster and yuppie cultures migrate in this direction, these shops will be booted from their lots. Their signage will be replaced with sandwich boards painted by art-school MFAs.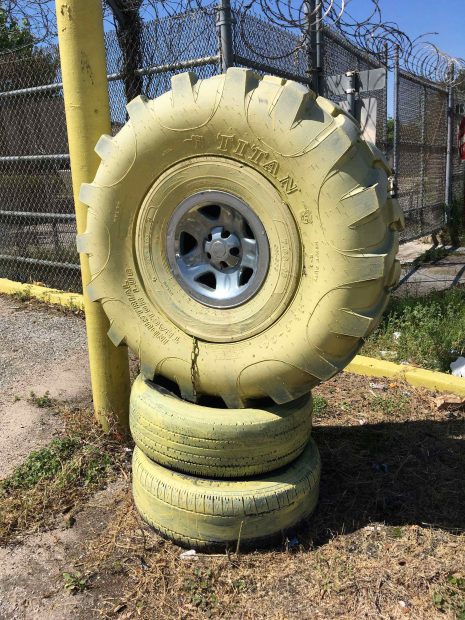 When I told a friend I was working on this project, they sent me two quotes that sum up the accidental art outside of the auto shops in north Houston:
"Idolatry and advertising are indeed art, and the greatest works of art are always and inevitably a bit of both."
-Dave Hickey
"Advertising is the greatest art form of the twentieth century."
-Marshall McLuhan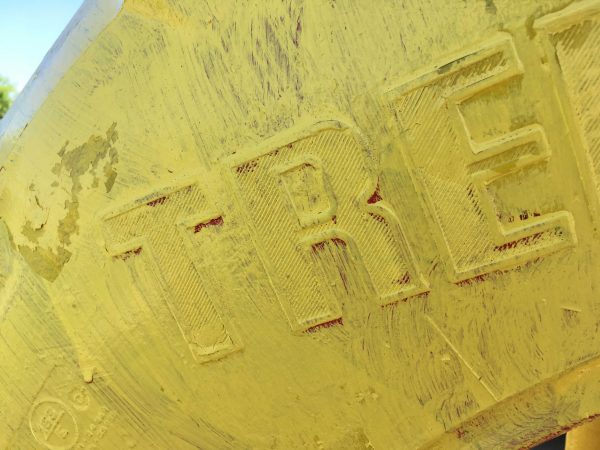 I made it a point on my trip up Shepherd to really look at some of the tires — not only from the road, but to drive up and see them as individualized objects. And here's what I saw: haphazardly crafted abstractions with surfaces just as rewarding as any painting I've seen this year; deliberately found and placed sculptural assemblages anchored to the ground as if they were public art; and microcosmic habitats inside the tires, filled with plants, trash, standing water, and insect life. And although "real artists" also make works using tires — Betsabeé Romero carves them, Rob Pruitt stacks them, Chakaia Booker shreds them, Robert Rauschenberg cast them, Fabio Viale emulates them, Blue Curry adds beans to them, Edward Burtynsky photographs them, and Allan Kaprow created environments out of them — I found the tires along Shepherd to be just as aesthetically purposeful and pleasing as any deliberate tire art I've seen in a gallery.
The objects along Shepherd have a power that lies in the necessity of their creation.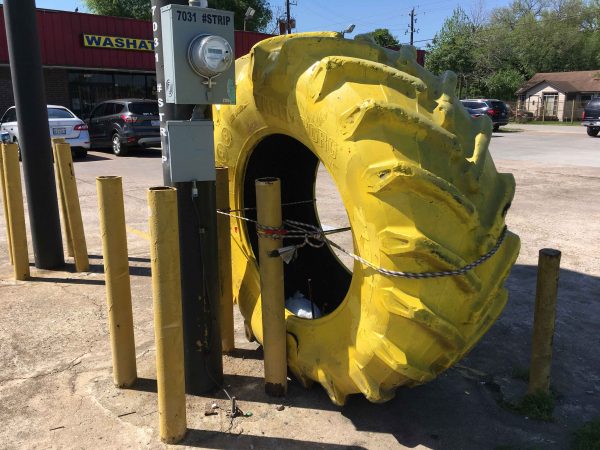 This article was made possible through the support of the Mid-America Arts Alliance, the National Endowment for the Arts, and the state arts agencies of Arkansas, Kansas, Missouri, Nebraska, Oklahoma, and Texas.