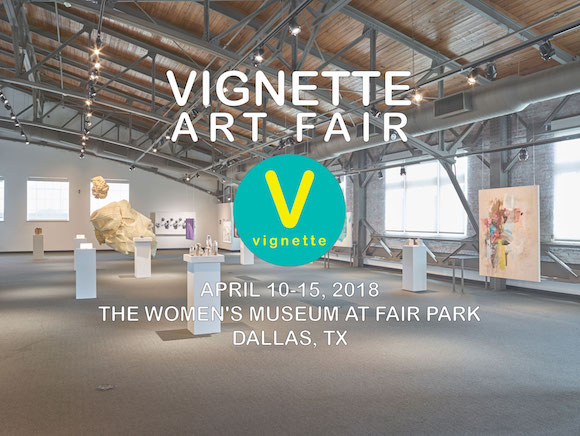 The Vignette Art Fair, a satellite fair that runs simultaneously with the Dallas Art Fair, takes place April 10-15, 2018 at the Women's Museum in Fair Park in Dallas and is dedicated to the work of female and and female-identifying artists.
The Fair's organizers state: "Vignette Art Fair was conceived… as an alternative fair that highlights talent that has been under-recognized and made ancillary by art institutions and establishments. This satellite fair will bridge the gap between local and international art scenes by displaying the work of creative female, and female identifying, minds during a time when the international art market descends on the city."
The Vignette organizers have expanded the fair this year and is shaped by a handful of regional curators. The general 2d and 3d fair exhibition is curated this year by the San Antonio Museum of Art's Erin K. Murphy. For the new program titled Virtual, which showcases new media art, the fair has brought in as curator Jessie Moncrief; for the program titled Venture, which showcases interactive, performance, and social practice art, the curator is artist Dee Lara. There will also be a series of panel discussions "with local, female industry leaders."
For a full listing of programming and events of the 2018 Vignette Art Fair, please go here.