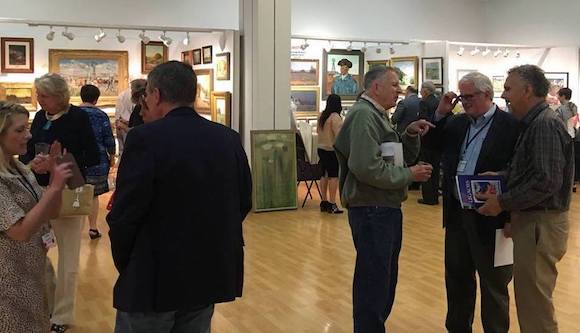 The Center for the Advancement and Study of Early Texas Art (CASETA), will hold its annual symposium at the Witte Museum in San Antonio on April 27-29, 2018. The mission of CASETA, founded in 2003, is "to promote the preservation, study and appreciation of Texas visual arts and its history."
CASETA has held an annual symposium at different locations in Texas since 2003. The goal of this signature event is to bring "together leading collectors, scholars, art dealers, museum professionals and educators to share new research, information and discoveries in the field."  CASETA especially encourages art educators (both at the university and high school level), and undergraduate and graduate college students to attend. The symposium is paired with CASETA's Texas Art Fair, which features notable dealers showcasing early Texas art. (The Fair is also located at the Witte, in its Memorial Auditorium.)
Among some of the session titles of the event programming: At Home in Texas: The Young O'Keeffe and American identity in the WWI Era; Controversial Images in Early Texas Art; and "All things are abstract": Reflections on the Art of McKie Trotter. Among some of the notable speakers and session leaders is Amy Fulkerson, Chief Curator of The Witte Museum; Mark Thistlethwaite, the Chair of Art History at Texas Christian University; and the keynote speaker this year is Eleanor J. Harvey, Senior Curator at the Smithsonian American Art Museum.
For a full list of programming, please go here.
To register for the symposium ($125 for new and returning CASETA members; $175 for non-members) and for info on hotels and all other symposium-related details, please go here.