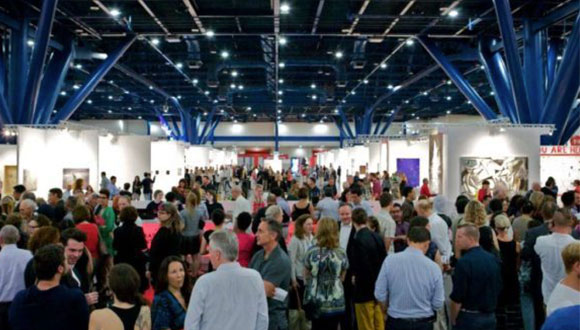 Art Market Productions, the Brooklyn-based partnership that organizes and runs the Texas Contemporary Art Fair in Houston, announced recently that the fair will return for its seventh edition in the fall of 2018. From 2011 to 2016 the fair took place annually, but in 2017, about a month before it was scheduled to open, the event was postponed. Of the postponement, fair director Max Fishko said at the time:
"It seems like most of our friends in Houston are OK, but there's obviously a lot of rebuilding to do. Based on what we were hearing, this just isn't a time to bring people from all over the world to sell art in Houston. This is a time for Houston to be rebuilding the community and we want to be a part of that."
The 2018 Texas Contemporary Art Fair is scheduled to run October 4-7 at Houston's newly remodeled  George R. Brown Convention Center. An email soliciting applications for exhibitors went out early last week. On its website, Art Market Productions says that the 2018 fair "will feature 65 exhibitors and an innovative program of special projects and public installations."
For more details, visit the Texas Contemporary's website. See below for Glasstire's past coverage of the Texas Contemporary.
Rainey Knudson' 2016 article Should Houston Have an Art Fair?
Brandon Zech's 2015 photo essay Highlights from the Texas Contemporary
Glasstire's 2015 Texas Contemporary Art Fair opening night video
Glasstire's 2014 Texas Contemporary Art Fair opening night video
Kelly Klaasmeyer's 2013 photo essay The Texas Contemporary Fair in 48 Photos
Glasstire's 2012 Texas Contemporary Art Fair Live Blog
Beth Secor's observations on the 2011 Texas Contemporary Art Fair
Mad Libs from the 2011 Texas Contemporary Art Fair
Kelly Klaasmeyer's 2011 article The Houston Fine Art Fair and The Texas Contemporary Fair: Twice the fairs equals twice the drama