#9 is a podcast that deals with cultural ideas and curiosities. It's hosted by the artist David McGee.
In this inaugural episode, David is joined by Felicia Johnson and Stanford W. Carpenter for a conversation about the cultural phenomenon of the movie The Black Panther, which as of writing is the top-grossing super hero movie of all time in the US, having surpassed $1.3 billion in revenues.
"The way the character was originally created, he was basically Sidney Poitier with a mask on."
To play the podcast, click on the orange play button below or visit our Soundcloud channel.
#9 was recorded by Chris Becker, and edited by Becker with David McGee. Original music by Chris Becker.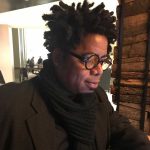 David McGee is a painter currently living in Houston, Texas. He is the host of the podcast #9.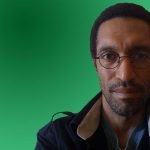 Dr. Stanford W. Carpenter is a Cultural Anthropologist and Comic Artist. He sits on the boards of the Black Comix Arts Festival, a comic convention featuring Black and Brown comic creators as well as Pocket Con, a mini comic convention focusing on girls and boys of color. He is regular contributor to BlurdDotRadio, a radio show featuring black nerds and black nerd-dom. He puts the sweet in sweet back and the bad in bad ass song. Nuff said.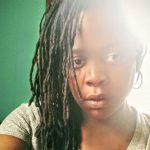 Felicia Johnson is a writer and filmmaker living in Third Ward Houston. Her work is focused on music, art and culture; she writes about the newness of things that are destined to become classics. Most of her creative works have been based around Hip Hop culture and currently she has turned her gaze to the methods that inspire artists. Felicia's latest endeavors include a narrative documentary series called "EgunStories," where people are telling stories about their ancestors, and a collaboration with painter David McGee called "A Book of Tricks."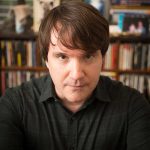 Cleveland-born, Houston-based writer Chris Becker lectures about music at The Jung Center of Houston and is the author of the critically acclaimed book Freedom of Expression: Interviews With Women in Jazz. A musician in his own right, Becker has composed music for dance, experimental video and mixed-media installations.
This episode of #9 with David McGee was made possible in part through the support of the City of Houston through the Houston Arts Alliance. Additional support was provided by the Mid-America Arts Alliance, the National Endowment for the Arts, and the state arts agencies of Arkansas, Kansas, MIssouri, Nebraska, Oklahoma, and Texas.