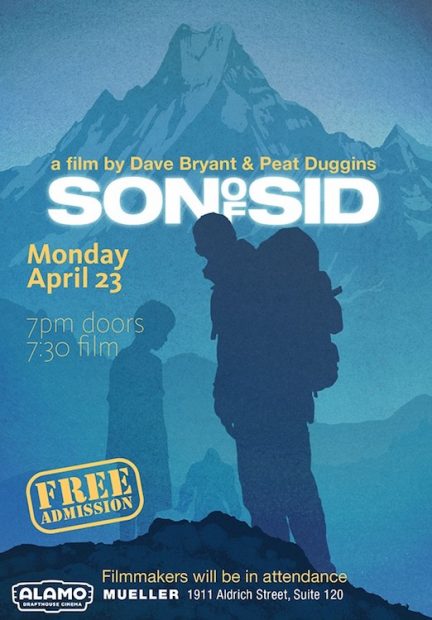 Back in the early aughts, Dave Bryant and Peat Duggins co-founded one of Austin's more memorable and active art collectives, called the Fresh Up Club. (The other active collective at the time, Camp Fig, had been founded/organized by Michael Sieben and Sterling Allen. When some members of both collectives merged in 2006, Okay Mountain was born.) In 2005 Bryant moved to New York. Several years later, Peat Duggins took a 4000-mile bicycle trip from Mexico to the Arctic, and made a well-received documentary about it, called A Survey of Open Space.
In a sort-of unique, art-meets-cinema homecoming, this coming Monday night, April 23 at Austin's Alamo Drafthouse Mueller, there will be a screening of Dave Bryant and Peat Duggin's debut narrative feature movie, SON OF SID. Both Bryant and Duggins will be on hand for it. The movie's one-line PR description is: "When curious 11 yr old Cosmo seeks to learn the fate of his absentee father, his vivid imagination takes him from his Texas hometown to the high Himalayas." The movie was written and directed by both Duggins and Bryant, was shot in Nepal and Texas, and stars Cosmo Martinez-Glenn, Karen Skloss, Andrew Costigan, Michael Spruiell, Ryan Filkil, and Zach Hall.
Admission is free but seating is limited. RSVP at [email protected]. Again, the screening takes place this coming Monday, April 23; doors open at 7 pm, and the screening starts at 7:30 pm, at Alamo Drafthouse Mueller in Austin, 1911 Aldrich Street, Suite 120.