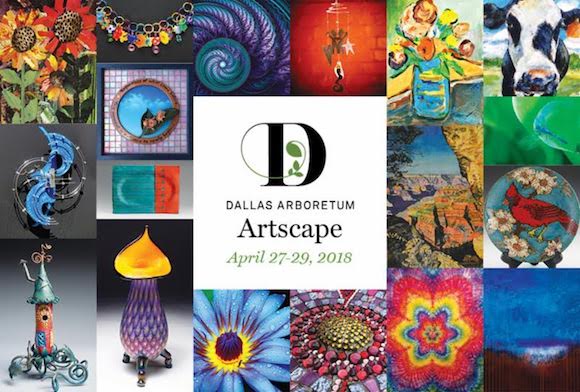 The Dallas Arboretum hosts its yearly Artscape, a fine art and craft fair held at the Arboretum featuring professional and student artists showing and selling their work, art demonstrations by university art faculty members, live music, craft beer, food, children's activities, prize giveaways… the works. This year's Artscape takes place next weekend, April 27-29.
There's an addition to Artscape this year. The Arboretum has announced 'Galleries at the Degolyer,' wherein ten commercial galleries come together (nine DFW-based; one Houston-based) in the Arboretum's Degolyer House to showcase works by represented artists. The participating galleries are:
Afterimage
Alan Barnes
Dian Malouf
David Dike
Mary Tomas
Riddell Rare Maps & Fine Art
Russell Tether
Southwest Gallery
Valley House Gallery and Sculpture Garden
William Reaves Sarah Folltz Fine Art (Houston)
 The Galleries at the Degolyer will be open for Artscape. The VIP preview of Galleries at the Degolyer takes place Tuesday, April 24 from 6:30-9pm, which includes wine, food, and valet parking. (RSVP to the VIP preview though Sarah Warnecke at [email protected] or 214-265-9621).
Again, Artscape, the main event, takes place next weekend, April 27-29 at the Dallas Arboretum. General admission cost to the Arboretum is typically $15 per adult and $10 for children.
For more on all of this, please go here.