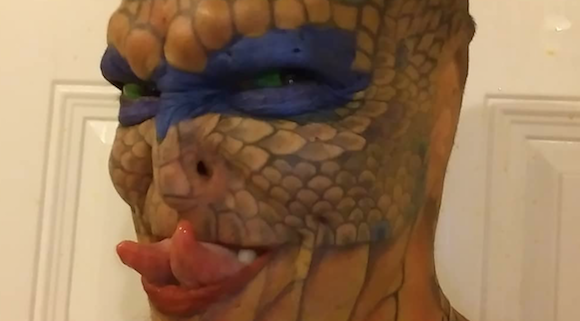 Eva Tiamat Medusa, born Richard Hernandez, knew he wasn't really a boy at an early age. After changing from a "he" to a "she," she now prefers to be called "it." "Like a snake," it says.
The Daily Mail states:
Leaving the corporate world behind, Eva began morphing into the reptilian form she'd always longed to have, claiming that after being abandoned by her parents at the age of five, she was 'born again' under the care of the western diamondback rattlesnake.
It has already spent more than $60,000 on the metamorphosis and plans to spend thousands more to complete the transition.
Medusa, who lives in the tiny south Texas town of Bruni (pop: 379 at 2010 census), receives a certain amount of acceptance, including its brother, but online comments are less than kind.