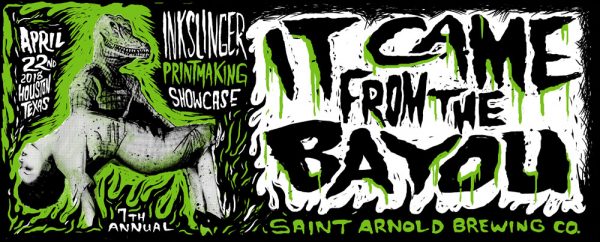 This weekend, April 21st and 22nd, printmakers will take over Houston for the annual It Came from the Bayou gathering, show, and sale. Kicking off the festivities today, the 21st, is a reception and exhibition of new bayou-themed posters at Burning Bones Press in the Houston Heights. The show features works by over twenty artists, including Houston-based favorites Carlos Hernandez, Eric Pearce, and Erin Miller, along with a host of other US-based printmakers. The event runs from 6PM to 9PM and features free hotdogs and refreshments.
Tomorrow, on the 22nd, is the main event: a sale and printmaker reunion in the Saint Arnold Brewery. Now in its seventh year, It Came from the Bayou features works by members of the Outlaw Printmaker group, students from Texas colleges, and anyone else that wants to sign up for a table. New this year is the addition of the Zombie Zine Zone which, based on its name, will likely feature artist-made printed matter.
Absent from this year's printmaking festivities is PrintMatters' Rockin' Rollin' Prints event and exhibition. In the past, the organization had rented a steamroller to live-print oversize woodcuts throughout the day and hang them throughout Saint Arnold's beer hall. This year would've been the eighth annual Rockin' Rollin' event, but earlier this year, PrintMatters announced that the organization will no longer host it, and is instead working on buffing up other elements of its biannual PrintHouston festival .
A full list of exhibitors for Sunday's It Came from the Bayou, which runs from 11AM to 4PM, is below.
Participating artists include:
Annalise Natasha Gratovich
Beast Syndicate
Emmett Merrill
Jessica Guerra
Cannonball Press
Holy Press
Carlos Pozo
Rebekah Brooks
Mystic Multiples
Julia Curran
Nicole Bernie
Theresa Doyle
Joshua Kobow
Erin Miller
Amber Kaiser
Brian Kelly
Neon Eye
Tom Huck
Carlos Hernandez
Burning Bones Press
The Amazing Hancock Brothers
Sean Starwars
Johnny Beaver
Raeleen Kao
Dylan Goldberger
Metaluna Press
Wesley Kramer
Inky Lips
Marco Camacho
Jonathan Reboloso
Ashley Annette
Rene Cruz
Eric Sultzer
Matt Stilt
Christopher Terry
RYD Works
John Wayne Is Dead