Featured in the audio version of this story are interviews with:
Jamal Cyrus
Bill Davenport
Kathryn Hall
Tierney Malone
Michael Morrow
Amanda Thomas
Jay Wehnert
You can listen to the audio version of this story at the top of this page, or by finding Glasstire wherever you get your podcasts. Special thanks to Carlos, and to everyone I spoke with in researching this story, including Jack Massing and Michael Galbreth.
Houston, as a city, is littered with signage. No matter where you go, if you're on a thoroughfare, you'll encounter slapdash advertisements marketing everything from cellphone providers you've never heard of to roofing repair companies. Most of the bandit signs placed around Houston share a similar aesthetic: they're either printed en masse on gatorboard, or they're hastily rendered in sharpie. Then, they're inevitably stuck into the ground at intersections or stapled to telephone poles, and before long, they're uprooted and torn down, only to be replaced by a new round of ads. This story isn't about all of those signs.
Instead it's about one particular set of signs that, for some people, including myself, has become ubiquitous to the Houston landscape. No matter where you are in the city, it's likely that at some point, consciously or not, you've come across one of these signs.
Normally installed high up on a telephone pole or tree, the signs nearly always share a uniformity: they're usually in a square or rectangular format and feature a stylized way of writing that looks both rushed and intricately planned at the same time. Though lots of the signs are on wood, some are on gatorboard that has likely been repurposed by their creator. The caps-locked text is nearly always red, and the background is generally white. Their message is consistent: always the word "FIX" followed by a list of appliances that may be in need of the sign-maker's service, followed by a phone number. If you're able to get up close to them, you can see the horizontal lines have been marked off with a pencil, like an Agnes Martin painting. The most important part is that they're always handmade.
Everyone I talked to for this story who has seen the FIX OVEN A/C signs (that's what I call them since that string of words is usually their opening line) around Houston for years has a unique relationship with them. Some people have called the number and some people haven't; some have their own concept of who the creator of the signs is, and some don't; and everyone, more or less, has a certain level of engagement with the signs.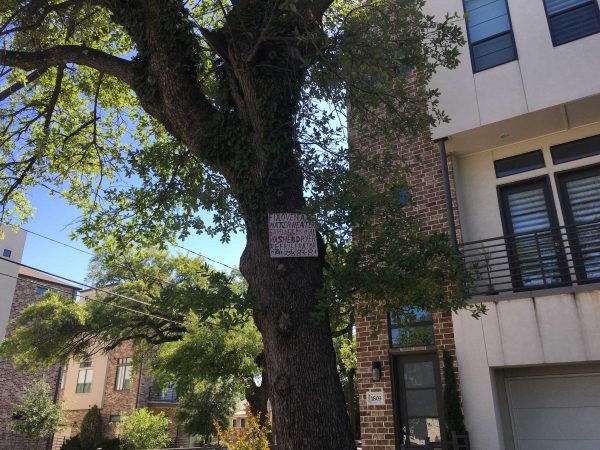 In the years since these signs have proliferated around Houston, people who have an interest in art and visual culture have taken a particular interest in the FIX OVEN A/C signs that goes further than admiring them in the street. Some of the people I talked to have removed these signs from trees and telephone poles in order to collect them and preserve them. Everyone has their own way of thinking about this action. In one way, taking the signs down fits in with the no-rules urban landscape of Houston, and with the concept of bandit signs, which the city does actively regulate and remove.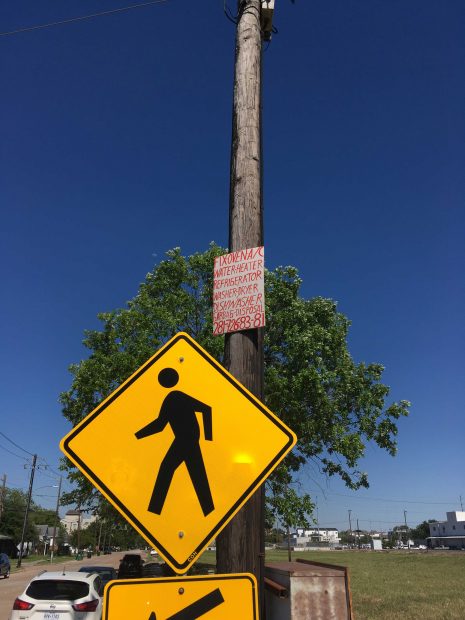 But at the same time, the signs do serve a very singular purpose for their creator: they're ads. Among people I talked to, there's a sort of unwritten rule about taking items, specifically signage, from the public space: try to make sure the items are no longer in use. With the FIX OVEN A/C signs, this is very simple to do, because they have a point of contact immediately on them: the phone number. So, I decided to call.
Carlos, the creator of the FIX OVEN A/C signs, is very much still active. He works for himself and his signs are the main way he markets his services. When he started out he tried newspaper ads and fliers, but those didn't have a good return, so he began making these signs instead. And it turns out they work. Carlos said that he makes signs whenever his workload is low. He finds his materials — plywood, gatorboard, paint — in the street, so he doesn't have to spend money on them. The one thing the signs do cost Carlos, however, is time. Since he gives the signs multiple coats of white paint so they won't rot during the hot Houston summer, they take a little while to get right; when we talked he told me that to make a batch of about six signs, it takes him between two and three days.
Once he has signs made, he'll bring them with him on jobs around town: if he's going to Conroe to fix a water heater, he'll hang up a sign on the way; if he's going to Katy to repair an oven, same thing. And once he hangs up more signs, he gets more calls. I'm sure this isn't a surprise, but Carlos does much more than just what's on his signs; he's worked repairing appliances and doing other jobs for years and is an advocate that experience is the best teacher. He told me that he can fix anything.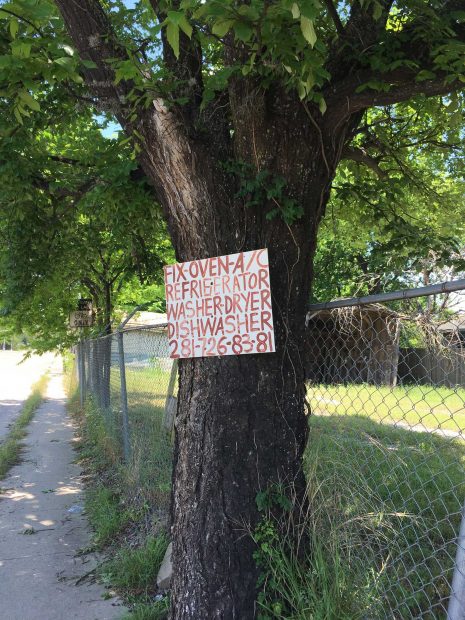 If you've made it this far in the story, you might be expecting some sort of surprise ending where I say Carlos is actually a conceptual artist who has been creating his signs as a larger public art piece over the past ten years, especially given the signs' reach. I'm sorry to disappoint you, but there's no twist. When I set out to find out about Carlos' signs, I didn't expect there to be some sort of fantastical narrative behind them. We have a tendency towards mythologizing people, building them up in our heads, but most of the time the individuals we do this to are just normal people trying to live their lives. We grab on to one characteristic about them (in this case, a man who makes signs that are so familiar to so many of us), and make it mean more than it really does.
There's another issue in this story.
There is a remarkable ephemerality about the FIX OVEN A/C signs, so I understand the desire to collect and preserve them. I have to admit that my hands aren't completely clean, either. Years ago, I got one of the signs from someone because I wanted to preserve it. The FIX OVEN A/C signs have a shelf life — if Carlos ever retires, becomes unable to work, or passes away, the remaining signs will slowly decay and become a thing of the past. His business depends on them. As long as the signs exist in the world, they serve a function, and that function is Carlos' livelihood. If you're unsure if the signs are still active or not, there's one simple way to resolve that: there's a phone number painted right on them. You can call it.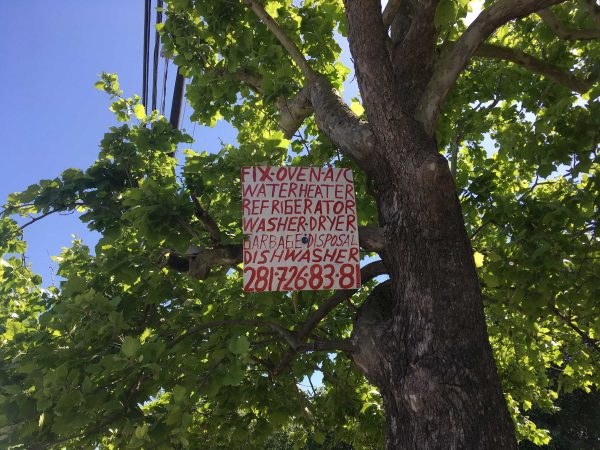 Those of us who appreciate Carlos' signs for more than their advertising function come from a world where we value visual things. If we want a paining by an artist, we called them up and talk with them – we don't just take it off a wall. That paining is part of their livelihood, and we respect that. I see a kinship to that way of thinking when I look at Carlos' signs. If we truly value work, like we say we do, we should respect these as part of his work.
So if you want one of Carlos' signs, don't take it off a tree or telephone pole; hunt and capture them only with your camera. And more importantly, if you ever need your oven, AC, refrigerator, washer, dryer, water heater, dishwasher, or garbage disposal repaired, you know who to call.