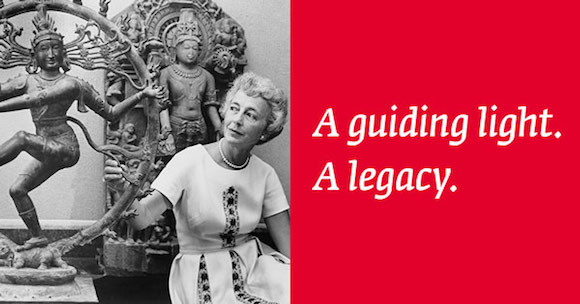 The Dallas Museum of Art announced today: Beloved Dallas philanthropist Margaret McDermott died Thursday at the age of 106. Per the Dallas Morning News: "Museum officials say she was the largest single benefactor in donating works of art and funding endowments. They credit her with having transformed the Dallas Museum of Art 'from a regional museum into an institution of global stature.'"
She was married to Eugene McDermott (d. 1973), co-founder of Texas Instruments who also "helped establish St. Mark's School of Texas and co-founded the research center that became the University of Texas at Dallas." The McDermotts founded the Eugene McDermott foundation in 1955, though after Eugene's death Margaret continued on as one of the the region's most generous philanthropists. ("Margaret McDermott's seven-figure donations are too numerous to list.")
Margaret was publicity averse, but her friends loved her dearly and described her "…as exceptionally kind and caring, but they, too, were respectfully protective of her privacy." Dallas has the Margaret McDermott Performance Hall in the Winspear Opera House, and the Calatrava bridge over I30 in Dallas bears her name. Starting in 1995 she gave $32 million to UTD to start the Eugene McDermott Scholars Program.
Via the DMA: "Margaret McDermott was a visionary patron of the arts, education, and healthcare whose generosity of spirit has had an immeasurable impact on the cultural and social fabric of the Dallas community for more than six decades. Mrs. McDermott's legacy of generosity and grace, as well as her strength of conviction, will serve as an unprecedented model for public service and arts philanthropy for generations to come."
For more on this, please go here and here.