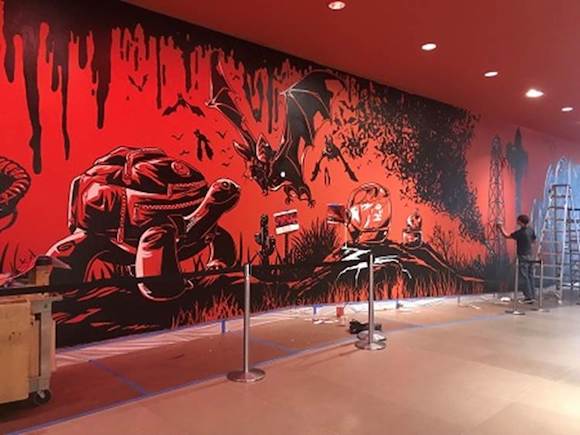 The Dallas Museum of Art has announced the current installation of the U.S.-museum, solo debut of Mexico-City-based artist Minerva Cuevas. The immersive mural, titled Fine Lands, fills the museum's central thoroughfare, and will be on view through September 3, 2018.
Via the DMA: "Cuevas is a socially engaged conceptual artist who responds to political events in a variety of media. In past works, she has adopted the language of corporate branding and advertising campaigns; here she has turned to graphic imagery in the style of comic books to create a sweeping tableau of both real and imagined histories."
"Engaging directly with the history of Dallas, Fine Lands is a panorama of the city told from the perspective of indigenous wildlife."
Cuevas was born in Mexico City in 1975, and is based there. She studied at the National School of Plastic Arts, UNAM. Her work is in the collections the Tate, MUAC UNAM, Mexico City, Centre Georges Pompidou, and the Van Abbemuseum, Eindhoven, among others.
Here is Cuevas on Season 8 of Art21.