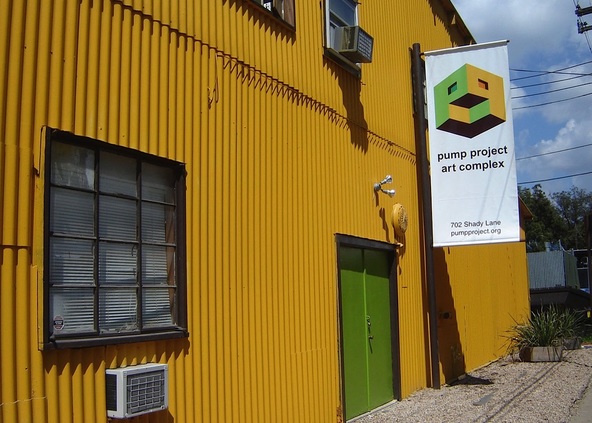 Austin art non-profit Pump Project announced today that its current space, a warehouse building located at 702 Shady Lane, has been sold by the building's owner, meaning that Pump Project will move out this summer.  The organization, which is a longtime stalwart of the Austin art scene, found out that its home of 13 years was going to be put on the market right before the 2017 East Austin Studio Tour. This was the latest challenge for Pump, which in the years prior had dealt with issues of code violations and a month-to-moth lease that made improving the building difficult, as the organization didn't want to sink money into a building it could be kicked out of.
The 12,000-square-foot building, which is somewhat rough and not climate-controlled, was on the market with an asking price of $2.4 million. We do not know the sale price at this time.
A press release from Pump said that the organization's new location "will be a larger facility near Riverside and Pleasant Valley Rd" and that more details about the space will be released later. The organization hopes to move into the building in the fall of 2018, and plans to continue hosting shows in a gallery space at the new venue. The building will also include studio spaces, meaning Pump's current resident artists will have a place to make work.
For now, Pump plans to open its final exhibition, The Door by the Garden, in its current space on June 1st, with a reception from 7-10PM. The organization has a farewell and fundraising party scheduled for June 23rd. To learn more and to support Pump Project, please go here.
And to learn more about other East Austin art spaces that have moved or been forced from their buildings in recent years, go here.