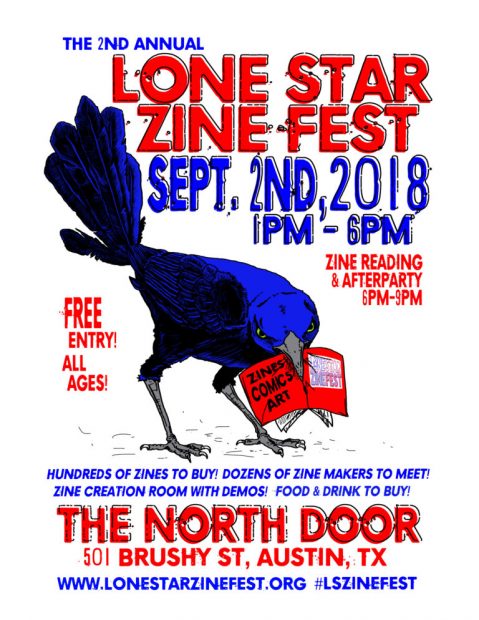 On Sunday, September 2nd, 2018, the second annual Lone Star Zine Fest is scheduled to run from 1-6PM at The North Door in Austin, Texas. Featuring more than 36 artists, collectives, and zinesters from across the state, the event is locally run and is sponsored by the University of Texas Libraries and Town Talk Library (an independent library and archive out of Austin), among others.
The Lone Star Zine Fest popped up to fill the city's self-publishing void after the 2015 Austin Zine Fest was postponed and ultimately cancelled due to community conflict. At the time, members of the zine community questioned the inclusivity of the event, which was to be held at the George Washington Carver Museum and Cultural Center in East Austin.
The festival is also somewhat of a substitute for Farewell Books, an independent Austin book store that sold zines and other self-published ephemera, that closed in early 2017.
The event doesn't only include vendors selling their wares; there are also zine making areas, binding demonstrations on the hour, and mingling with other art lovers. After the official festival is over, there will be an afterparty and zine reading at the venue from 6:30-8:30PM.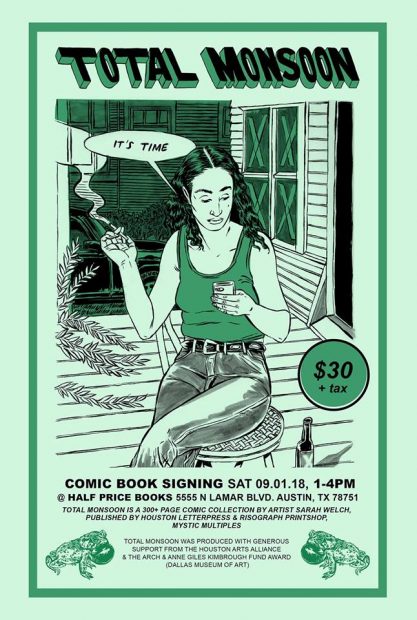 See a full list of Lone Star Zine Fest exhibitors below. If you're in Austin and have a hankering for zines today, September 1st, you can visit Mystic Multiples from 1-4PM at Half Price Books on North Lamar (5555 N Lamar Blvd) to pick up their latest release: a compilation of Sarah Welch's Total Monsoon series.
Lone Star Zine Fest Exhibitors:
Aaron Goldman / Tumbleweed Distro
Angel Summers
Anna Boxall
Ashley Robin Franklin
Austin Public Library
Ben Snakepit
Carley Jacobs
Challenger Street Newspaper
Clash Comix
D Chang
Danielle Demetria
Derelict Ink 
Echale Books
Feral Editions
Fine Print
GUTROT
Harlequin Creature
Jack Driscoll
Jelly Prison In My Television
Jesse J. Ruiz
Jocelyn Peña (Bad Year Collective)
Jolene Bandini
Joshua Ore
Kerry Butcher
Latino Toons
Lazy Suzans
Leticia Urieta – Barrio Writers Austin
Martinez Books (Juanita Segovia-Martinez & Hayley Books)
Monicat Designs & ArtedeAndi
Monkeywrench Books
Mothboy1996
Mystic Multiples
St. Sucia (Natasha Hernandez & Isabel Ann Castro)
Ni de aquí, Ni de allá | Neither here nor there
Puro Chingón Collective
Red Leather & Danger 
Robin Borre
Rough House Comix
Sam Treviño / Chicon Street Poets
Saytown Review Zine & Birdnerd Comix
Sherwood Forest Zine Library
Silk Club
Town Talk Library
UT Libraries
Veek
Yes, Ma'am