If you're looking to get prints, zines, and comics in Austin, you should know about STAPLE!, an annual independent media expo featuring self-published and artist-made goods. Now in its 14th year, the event includes more than 200 individuals tabling and showing their wares, along with panel discussions, artist talks, and activities for kids and adults alike.
STAPLE! was founded in 2005 by Texas native and longtime Austinite Chris Nicholas as a venue for independent comic creators to share their work. Being a comic-book maker himself, Nicholas was prompted to create a more open-sourced method of distribution for himself and his fellow artists, as the comics market at the time was hard to break into. As he said in a 2014 interview with The Austinot, "the distribution of comics is basically monopolized by one company. If the distributor doesn't get orders for 1,000 issues for a title nationwide, they simply won't distribute the title."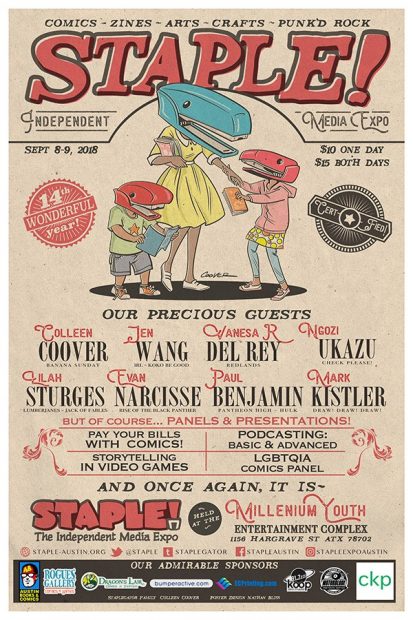 So after posting a call for artists, the first STAPLE! had a one-day run in 2005, and featured over 30 exhibitors and more than 300 attendees looking to get prints, zines, and comics in Austin. Since then, the event has grown and is now a two-day affair hosted at Austin's Millennium Youth Entertainment Complex. The 2018 STAPLE! expo runs from 11AM-6PM on September 8th, and from 12-6PM on September 9th. A small selection of the event's programming is below. For more details, visit STAPLE!'s website.
Paying Your Bills with Comics Panel
Saturday, September 8, 12-1PM
This first panel discussion will explore how young indie creators are making a career out of their craft. Ngozi Ukazu, Madeline Rupert ( Sakana ) and Gaby Epstein will talk about how they pay their bills with comics, crowdfunding and freelance work.
LGBTQIA Comics Panel
Saturday, September 8, 4:30–5:30 p.m.
Prominent and emerging comics creators Lilah Sturges, Jeremy Holt, Alex Grandstaff and Dylan Edwards discuss their work and experiences in the comics industry in a panel moderated by the Austin Chronicle's Sarah Marloff.
Zines: So What's the Deal?
Sunday, September 9, 2:30–3:30 p.m.
Cartoonist and Zine Fest Houston organizer Maria-Elisa Heg presents on the cultural significance of zines throughout history. She will offer practical advice about making zines and getting involved with the DIY community.