SAVEDx, a new fashion label partnering with artists to create limited-edition goods, has announced that its first-ever collaboration will be produced with Texas artist Vincent Valdez. The product, a pair of shoes imprinted with a reproduction of the artist's 2016 painting 'til Then, will be released in a limited edition of 499 pairs, sold only through the label's website and through at least two museum stores: The Massachusetts Museum of Contemporary Art, (where the artist will be featured in the upcoming exhibition Suffering from Realness), and the Museum of Fine Arts, Houston. The shoes are priced at $298, with a portion of the proceeds donated to the "East Los Angeles College/The Vincent Price Art Museum in conjunction with the Smithsonian Undergraduate Internship Program." The label's other initial partner is the Texas-based arts education organization MindPop.
Valdez commented on his involvement in the campaign:
"Working creatively with SAVEDx is an effort to inspire young minds through art education. Art education was not readily available in my community and in my youth. This project is but one small way of helping to change this for others and to help forge creative opportunity for the next generation."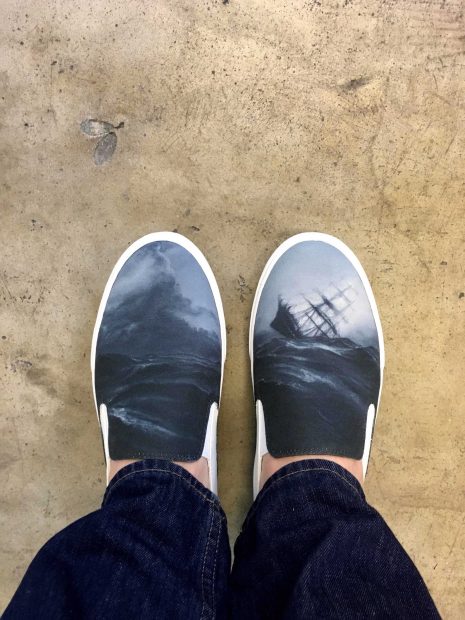 Todd Widell, the label's founder, writes that his decision to start an art-inspired, charitable fashion label came after many conversations and collaborations he had with Valdez, who is also a principal in the company. As more artist projects come to fruition through the label, more art education programs will benefit from the company's donations. Widell further describes his goals for the new label:
"Designing an original shoe line is step one. With SAVEDx, we're looking to expand the influence of the art world well beyond the confines of a gallery and invite consumption from a larger demographic — with the mission of enriching the lives of young people with critical art education programs. Fashion will always remain a core product offering at SAVEDX, and we're excited to design other one-offs and 'goods' as our artist collaborations evolve."
SAVEDx's shoe line featuring Texas Artist Vincent Valdez's work is expected to be released in November of 2018. For more on Vincent Valdez, go here.