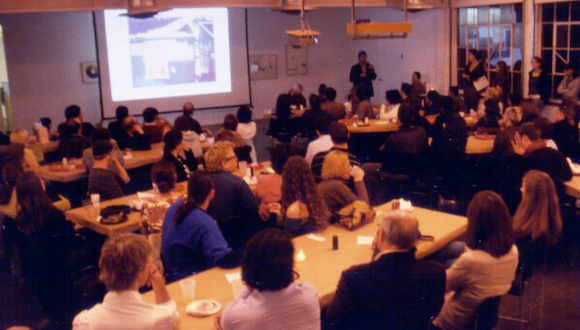 On September 19, 2018, from 6-8PM, San Antonians can welcome Artpace's new residents with a community potluck. A long-held tradition at the organization, the triannual event took an extended hiatus over the past few years, but was recently revived for the summer 2018 artists-in-residence, soon after longtime Artpace employee Riley Robinson was appointed as the organization's director.
For the fall 2018 potluck, the city's Max's Wine Dive will provide a main dish, meaning that Artpace is asking community members to bring their favorite side dishes and desserts. At 7PM, this term's residents will talk about their practices and what they plan to do during their residencies. See below for information about this fall's round of residents, who were selected by London-based writer, curator, and musician Morgan Quaintance.
Texas-based Artist-in-Residence: Ana Fernandez
Ana Fernandez lives and works in San Antonio, Texas. Many of her watercolors and large-scale paintings depict the features of the city's Latinx communities through the artist's eyes. Her work is regularly shown across the state, including recent group shows at the Contemporary Arts Museum Houston, the Plaza de Armas (San Antonio), and the Texas Biennial (Austin); and solo exhibitions at the Brownsville Museum of Art, the Guadalupe Cultural Art Center (San Antonio), and Cinnabar Art Gallery (San Antonio). Fernandez also operates an award-winning food truck, The Institute of Chili.
U.S. Artist-in-Residence: Clifford Owens
Clifford Owens creates photographs, video works, installations, and performances that deal with concepts of blackness within art and society. He's shown his work and performed in Texas before, including his first solo museum exhibition, Perspectives 173: Clifford Owens, at the Contemporary Arts Museum Houston. He was also featured in Valerie Cassel Oliver's exhibition Radical Presence: Black Performance in Contemporary Art at the CAMH.
International Artist-in-Residence: Alice Khalilova 
London-based artist Alice Khalilova creates prints, photographs, sculptures, and video works that address themes of technology, spirituality and philosophy. She's shown work in London at DAM Projects and Open Source Festival, and she is involved as a co-curator and participant in Clubdead.io, "an online/offline exhibition concept dedicated to redefining abandoned spaces in post-austerity Britain."