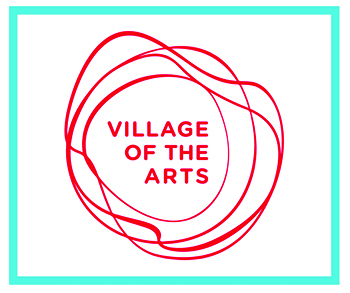 A new artist residency that embeds artists in Austin schools was launched in September 2018. The result of a partnership between the Austin Independent School District, the City of Austin Department of Economic Development, Cultural Arts Division, and the non-profit organization MINDPOP, the program aims to integrate artists and arts organizations into the fabric of area public schools as resources for students, in exchange for studio spaces. Officially titled Village of the Arts, the program has kicked off at Cunningham Elementary with five local arts organizations that are occupying four classrooms on the school's campus: Bibliographia, a mural/screenprinting/signpainting group; Teatro Vivo; Theatre Heroes; Paramount Story Wranglers; and Pollyanna Theatre Company.
The program's developers comment that, in addition to being mutually beneficial for the artists, organizations, and students who will have opportunities to learn and grow from one another, the program will help Austin's creatives who have been struggling with rising rent prices. Meghan Wells, the manager of the City of Austin Cultural Arts Division, added, "the Village of the Arts represents the kind of collaborative innovation that is needed to address Austin's affordable creative space crisis."
Though Glasstire has reported on multiple arts and theatre organizations that have been affected by the city's rent boom, it's important to note that individual artists are among the most affected, since they are continuously priced out of studio and living spaces and have few economic relief options available. And while the Village of the Arts says it will provide "local artists and arts organizations" with spaces, its first five five residents consist of four theatre companies and one more commercially-oriented creative group. Glasstire has reached out to MINDPOP to ask if individual artists will ever be included in the program.
For those wondering what a typical day as an artist-in-residence at an elementary school would look like, MINDPOP's program director, Jackson Knowles, says this:
"A visual artist may spend their morning painting in preparation for a gallery exhibition, and then the afternoon with 3rd grade students creating a playground mosaic. Or a 5th grade class may come across a reference to the Harlem Renaissance and then have the opportunity to ask a songwriter in residence about the role of music in society. The possibilities are limitless."
The Village of the Arts' founders hope that by placing artists in Austin schools, more opportunities for cultural programming will arise. Furthermore, they emphasize the win-win-win for all parties involved: "through Village of the Arts, students get more access to artists during their school day, artists gain access to affordable workspace, and communities benefit from living in an arts-rich environment."
To learn more about Village of the Arts, go here.
Update October 22, 2018: MINDPOP told Glasstire about the future of the program:
"The Village of the Arts at Cunningham is a pilot project, and we do hope to see many more Villages at AISD campuses. Any new Village would indeed open space for additional artists — and we are absolutely open to both individuals and organizations.
The Village at Cunningham is committed for two years, and the artists there are on an annual agreement, with every expectation that we will renew. All parties have agreed that we'll use the experiences of this first year to improve the program moving forward.
Artists in residence at the Village have summer access to their spaces."