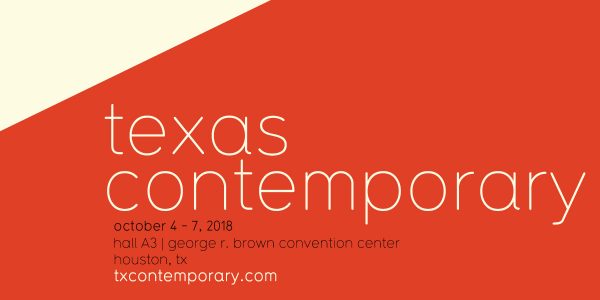 Art Market Productions now has a list of exhibitors on its website for the 2018 Texas Contemporary Art Fair. Set to run October 4-7, 2018 in Hall A3 in Houston's George R. Brown Convention Center, this seventh iteration of the fair will feature more than 70 galleries, making it the "largest edition to date," per Art Market Productions.
Since it kicked off in 2011, the Texas Contemporary has been an annual event for Houston's art community, with the exception of 2017's fair, which was cancelled due to Hurricane Harvey. At the time, Art Market Productions also cancelled their December 2017 Miami art fair in anticipation of Hurricane Irma. The year prior, for the 2016 fair, the Texas Contemporary's exhibitor list was kept under wraps until soon before the event.
One change from the 2016 fair to the 2018 fair is the increased number of participating Texas-based cultural partners. While the Texas Contemporary has long worked with the Contemporary Arts Museum Houston and other Houston non-profits, this year it has brought in art centers and spaces across the state, including Big Medium in Austin, Artpace and Blue Star Contemporary in San Antonio, and Southern Methodist University's Pollock Gallery in Dallas, among others.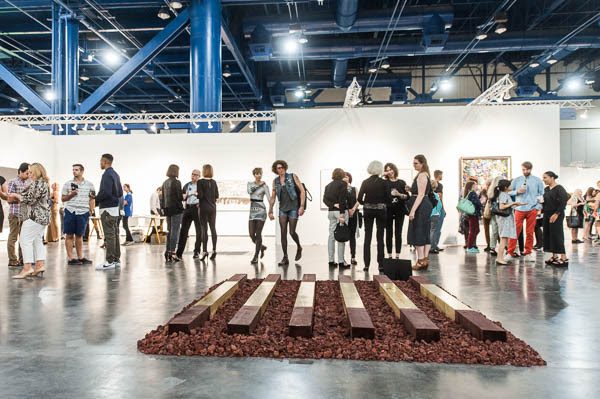 The Texas Contemporary's installations for this year also have a strong Texas slant, with presentations of works by Carlos García Noriega Bueno via Galeria Enrique Guerrero, which is the homebase gallery for Houston's guerrero-projects; Heather Tolleson presented by Zoya Tommy Gallery; and recent University of Houston MFA grad Jonathan Read also via Zoya Tommy.
In a statement to Glasstire, Art Market Productions said of the 2018 Texas Contemporary fair:
"We're thrilled to be returning to Houston this October for the seventh edition of Texas Contemporary. Expect 70 curated presentations from galleries from around the world – including local favorites and exciting newcomers – alongside a program of public projects and installations. We look forward to extending the fair's reach into the region's collecting community, and as always we're honored to continue our support of local museums and institutions, especially the fair's long time Beneficiary Partner CAMH (Contemporary Arts Museum Houston)."
See current lists of the 2018 Texas Contemporary Art Fair's exhibitors and cultural partners below.
2018 Galleries Include (with Texas-based spaces in bold):
14 Pews (Houston)
AbsolutArt.com (Stockholm | New York)
ACA Galleries (New York)
Adamar Fine Arts (Miami)
AH Contemporary (New York)
Alida Anderson Art Projects (Washington D.C.)
Alvarez Gallery (Stamford)
Analog Contemporary (New York)
Antieau Gallery (Sante Fe)
Arcadia Contemporary (Culver City)
Arnoult Fine Art Consulting (Houston)
Aureus Contemporary (Providence)
Back Gallery Project (Vancouver)
Blue Rain Gallery (Sante Fe)
Boulderton Contemporary Art (North Bay Village, FL)
Bruce Lurie Gallery (Los Angeles)
Celaya Brothers Gallery (Mexico City)
Chimento Contemporary (Los Angeles)
Chloe Gallery (San Francisco)
Cindy Lisica Gallery (Houston)
CK Contemporary (San Francisco)
Claire Oliver Gallery (New York)
Clark Gallery (Lincoln, MA)
Connect Contemporary (Atlanta)
Contemporary Arts Museum Houston (Houston)
Contessa Gallery (Cleveland | Palm Beach)
David Shelton Gallery (Houston)
EDNA Contemporary (San Luis Obispo)
Emmanuelle G. Contemporary Art (Greenwich)
Galeria Enrique Guerrero (Mexico City)
Galeria Moro (Venezuela)
Galerie Taménaga (Tokyo)
Hall Spassov (Seattle)
Imaginario Galería de Arte (Buenos Aires)
Inart Gallery (Brisbane)
JACOB BABCHUK GALLERY (San Jose)
Joseph Gross Gallery (New York)
KITAI (Tokyo)
La Sala Art Gallery (Merida, Yucatan)
Maddox Gallery (London)
Masterworks Fine Art (Oakland Hills)
Michele Mariaud Gallery (New York)
Moody Gallery (Houston)
Muriel Guépin Gallery (New York)
Nil Gallery (Paris | Capri)
Not Gallery (Austin)
Pablo Cardoza Gallery (Houston)
Peimbert Art (Los Angeles)
Pele Prints (St. Louis)
PIGMENT GALLERY (Barcelona)
QingYunGe Gallery (Changzhou, China)
Quantum Contemporary Art (London)
Ranivilu Art Gallery (Miami)
Rebecca Hossack Gallery (London | New York)
Rebekah Jacob Gallery (Charleston)
Rehs Contemporary Galleries (New York)
Robischon Gallery (Denver)
Roman Fine Art (East Hampton)
Simard Bilodeau Contemporary (Los Angeles | Shanghai)
Space 776 (Brooklyn)
Southwest School of Art (San Antonio)
Stella Ripley (Quebec)
Timothy Yarger Fine Art (Beverly Hills)
Uprise Art (New York)
Walter Wickiser Gallery (New York)
Zabel Gallery (Quebec)
ZieherSmith (New York)
ZK Gallery (San Francisco)
Zoya Tommy (Houston)
Cultural Partners Include:
Art League Houston
Artadia
ArtTable
Artist Foundation of San Antonio
Artpace
Asia Society Texas
Association of Professional Art Advisors
Big Medium
Blue Star Contemporary
CAMH
City of Houston, Office of Cultural Affairs
ClayHouston
Collectrium
Community Artists Collective
Cynthia Woods Mitchell Center for the Arts at University of Houston
Discovery Green
DiverseWorks
FLATS
FotoFest International
FreshArts
galleryHOMELAND
Galveston Arts Center
Gensler
The Graffiti and Street Art Museum
Hermann Park Conservancy
Houston Ballet
Houston Center for Contemporary Craft
Houston Center for Photography
Houston Cinema Arts Society
The Houston Design Center
Houston First
Houston Insiders
Houston Museum District
Japan America Society of Houston
The Museum of Fine Arts, Houston
Musiqa
Menil Collection
The Orange Show Center for Visionary Arts
Pelican Bomb
Post-Studio Projects
Project Row Houses
Pollok Gallery (SMU)
Rothko Chapel
Tang Art Advisory
University of Houston at Clear Lake Art Gallery
Washington Avenue Arts District
YESPrep