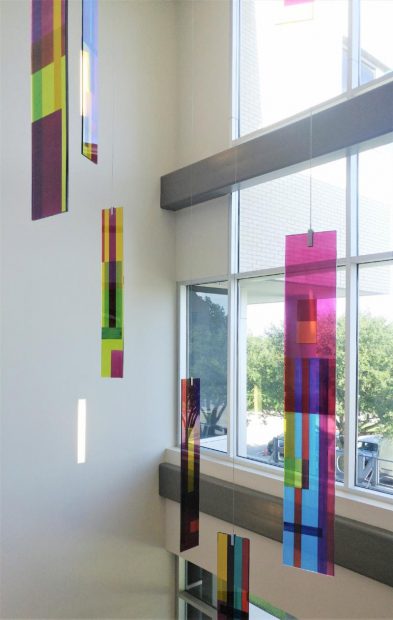 Continuing the University of Houston's commitment to and emphasis on the arts, the UH-Victoria campus recently unveiled Synchronicity of Color: Victoria, a new installation by Texas artist Margo Sawyer.
The piece consists of seven hand-painted laminated glass elements suspended from the ceiling. To create the installation, Sawyer spent two years working with the 5th generation German glass company Franz Mayer of Munich to create the colored glass panels using computer design and coating the panels with ground glass and then firing them in a kiln.
Sawyer has had a busy year so far: she was recently named a 2018 Guggenheim Memorial Foundation Fellow, and she also is coming off of a recent installation at Holly Johnson Gallery in Dallas. During the show, Glasstire's Christina Rees wrote an article about the power Sawyer's work has to pull viewers in and keep them fascinated: "For a few luxurious moments in that space, I fell into the kind of glittering meditative trance, sans drugs or booze, that offered profound respite from the anxiety that comes with art-scene re-entry. Time slowed, my sense of light and the perimeters of the room shifted, my sense of urgency relaxed… This is the kind of art that really does let you do what you need to do with it, in the time you have to do it. It's delineated and precise while remaining completely porous and responsive."
Sawyer spoke about her commission for UH-Victoria, which she describes as "an optical color play, transparency, reflectivity, luminosity, physicality, materiality, perceptual, material and the psychological effects of color as a window into our emotions." Carl Jung's concepts of synchronicity and meaningful coincidence provide inspiration for Sawyer.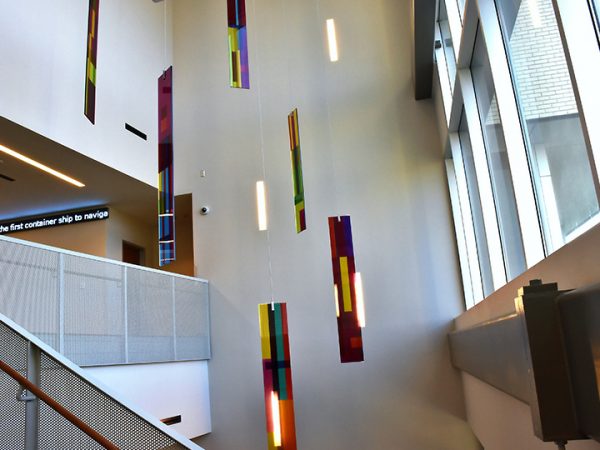 María C. Gaztambide, the newly hired director and chief curator of Public Art at the University of Houston System, also spoke about her own appreciation of Sawyer's new work, stating:
"The displacement of color-infused light onto this multi-leveled space is one of the elements making this work so spectacular. Margo Sawyer's work reflects a long-standing commitment to color as the vehicular medium for investigating the relationship between site-specific art and architecture. It is simply stunning, and we are delighted to share it with audiences in and beyond Victoria."
Synchronicity of Color: Victoria is UHV's first commissioned art installation in more than a decade. The piece was installed under a program established in 1966 by the University of Houston to set aside one percent of construction costs of all new building projects to acquire works of art.
UH-Victoria will host a reception to celebrate Sawyer and her installation from 5-7PM on Friday, September 21, 2018 in the University North atrium (3007 N. Ben Wilson Street, Victoria, TX 77901).