David Wojnarowicz: History Keeps Me Awake at Night
Whitney Museum of American Art
Through September 30, 2018
For those of us who were too young (or as yet unborn) to grasp the full horror of the AIDS crisis, this powerful show drives the tragedy home, with selection of works that demonstrates Wojnarowicz's range, including recordings from his band 3 Teens Kill 4, as well as recordings of the artist speaking towards the end of his life. This is one of the most innovative installations I've seen in years, each gallery a different shape and color, all unobtrusively leading the viewer through a narrative of Wojnarowicz's work and life. At the end as he was dying from AIDS, his work became urgent, wrathful and heartbreaking. The final galleries of this exhibition will grip your heart with grief for this man and all the others who were so needlessly lost during that dark period in our national history.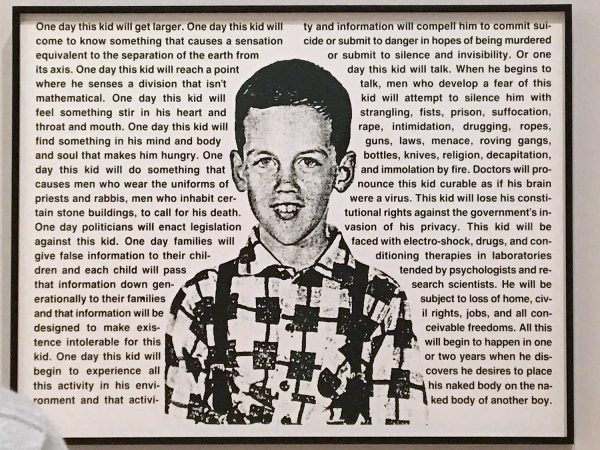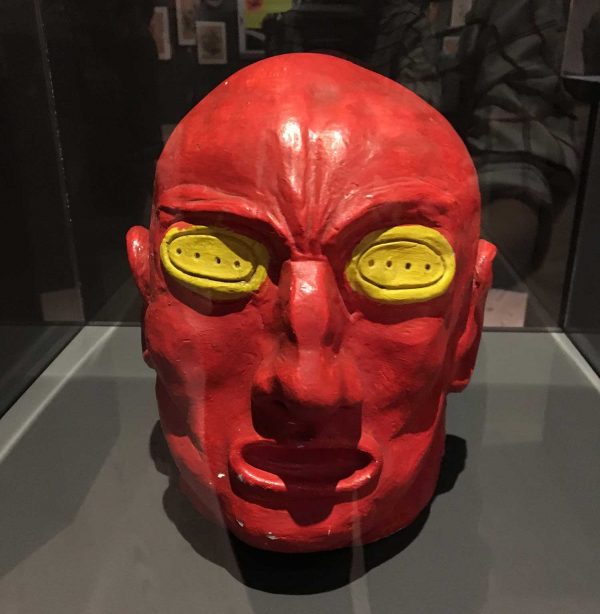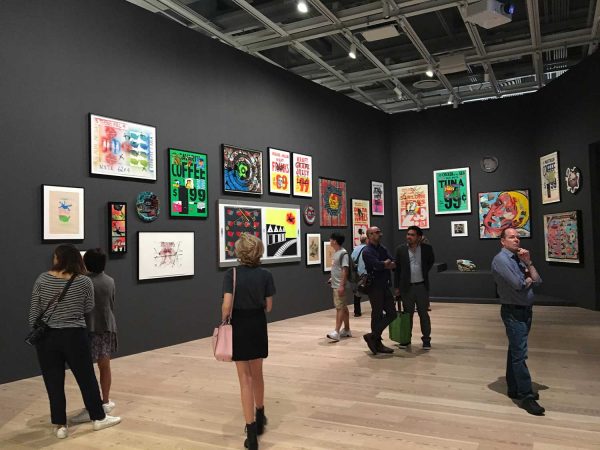 Rackstraw Downes
Betty Cuningham Gallery
Through October 14, 2018
Don't trust the jpegs. No digital image will convey all the sensitive, granular dotes and strokes in these paintings — the way they dissolve on close inspection. Downes manages to be dry and exquisite all at once with his observational subjects, whether they're a nondescript West Texas landscape or the kind of aging New York back alley that every building has, and few people ever see. [More on this exhibition here.]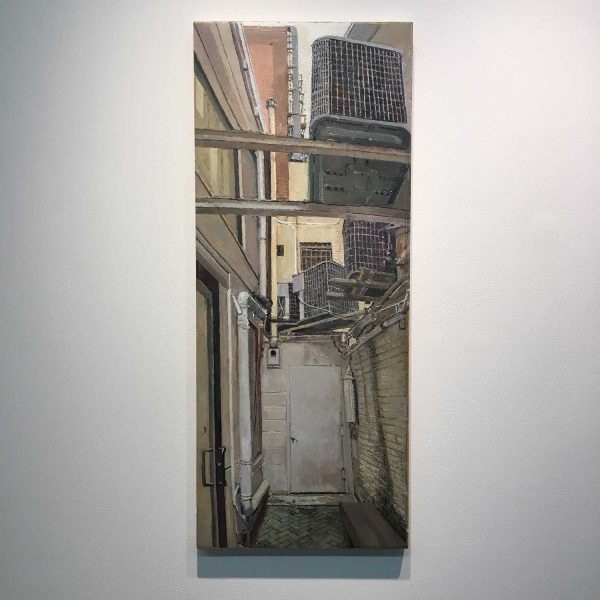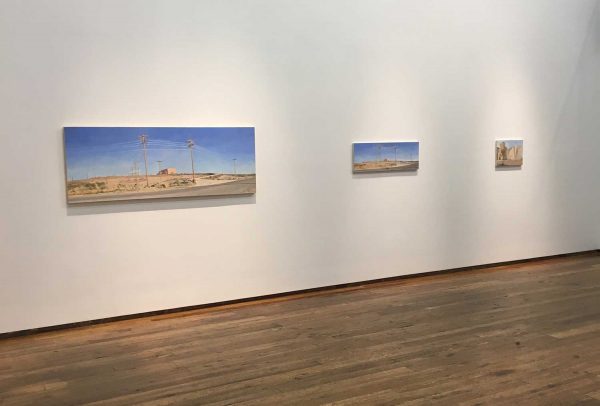 Toyin Ojih Odutola: When Legends Die
Jack Shainman
Through October 27, 2018
There's an elaborate fictional backstory here about openly gay, married members of the Nigerian nobility, and these paintings being family portraits. It's a pleasant fantasy about a country where all same-sex activity is illegal and just last year there were mass arrests of gay men. Still, I admit to not being terribly interested in this layer of narrative: I think these works stand on their own merits. They have a graphic, pieced-together quality almost (but not quite) like animation. Their elegant subjects are subsumed with a calm ennui, whether staring at us directly or gazing into the middle distance, lost in their thoughts. The restful lavender walls were a good choice too.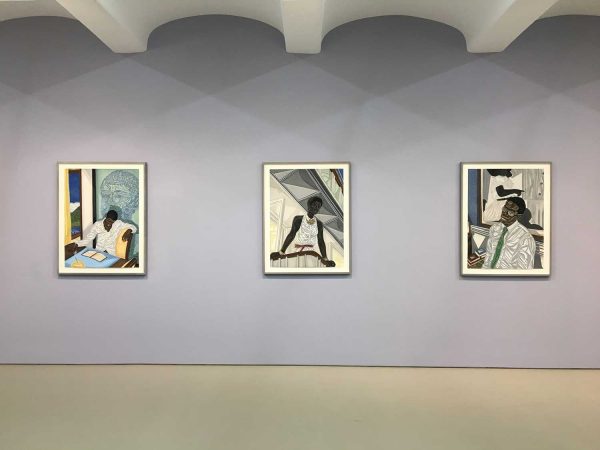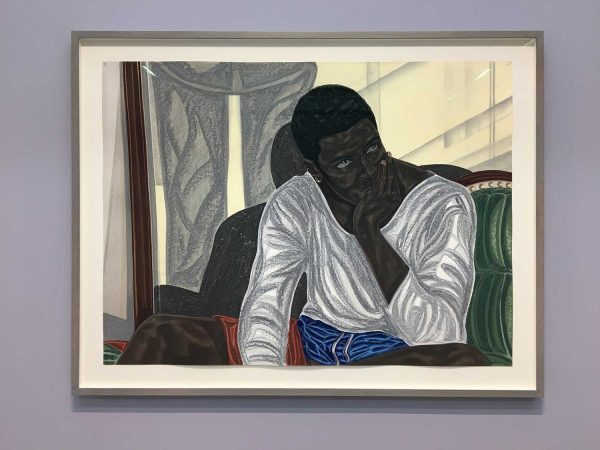 Jeremy DePrez: Furnished Head
Marinaro
Through October 14, 2018
Marinaro is a small gallery tucked into the deep recesses of the Lower East Side. It's well worth making the trek to see its snug brick basement, which gives off faint echoes of the human activity has occurred there over the decades. (I like to think someone killed a man down there; it's the romantic in me.) The space the perfect foil for new works by the painter Jeremy DePrez, who has moved to New York from Houston. His familiar shaped abstract canvases are on view alongside newer, more sculptural paintings, including a big green gridded box you have to step around inside the door and a silver piece purportedly inspired by a crushed gum wrapper. The latter reminded one viewer of either Beavis or Butthead (he couldn't remember which was which.) Visit, breathe in the history and the fresh paint, and be sure to make time for the excellent dumplings and turnip cakes at the nearby Dim Sum Go Go.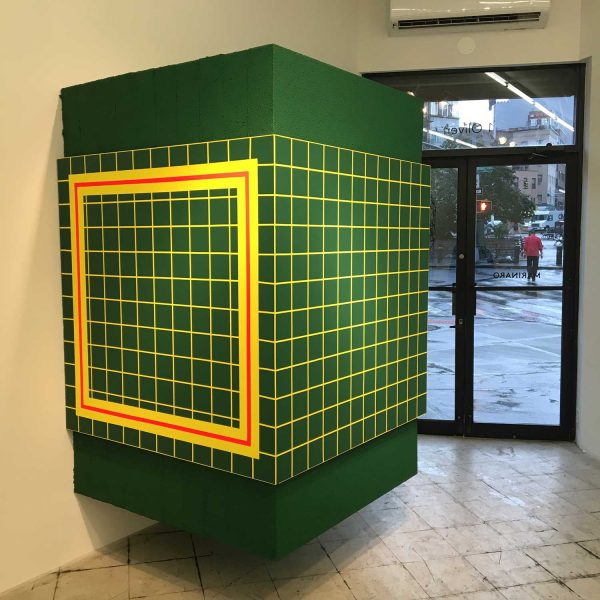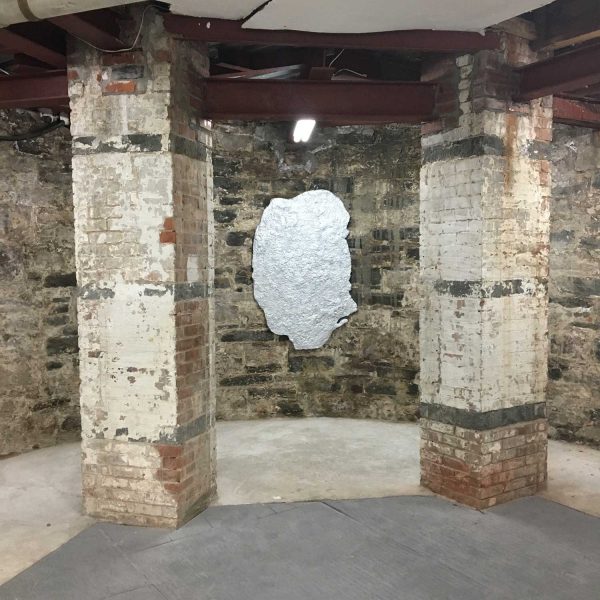 Endless Enigma: Eight Centuries of Fantastic Art
David Zwirner
Through October 27, 2018
This show is ridiculous. It has a Titian. It has the Kimbell Art Museum's James Ensor painting of skeletons warming themselves by a fire. Is it a museum show? Are we shopping? Who cares: they've got Gustave Moreau, Sherrie Levine, Leonor Fini, Jean-Jacques Grandville and Eileen Agar in the same few rooms together. A wonderful show of weird/macabre/darkly funny art, it's inspired by the legendary 1936 exhibition Fantastic Art, Dada, Surrealism at MoMA. This is loose, delightful fun the kind of which most museums only dream of having.
Delacroix
Metropolitan Museum of Art
Through January 6, 2019
I admit I buzzed through this huge, much-anticipated show pretty fast. I did linger and find unexpected pleasure in a series of prints Delacroix did for a book of Faust. These lithograph proofs included his doodles and sketches in the margins, and you could see his remarkable talent in these whiffed-out bits of horses and faces and scribbles. Delacroix is good, yes yes he's good… but don't attempt this one on an empty stomach after hours on your feet.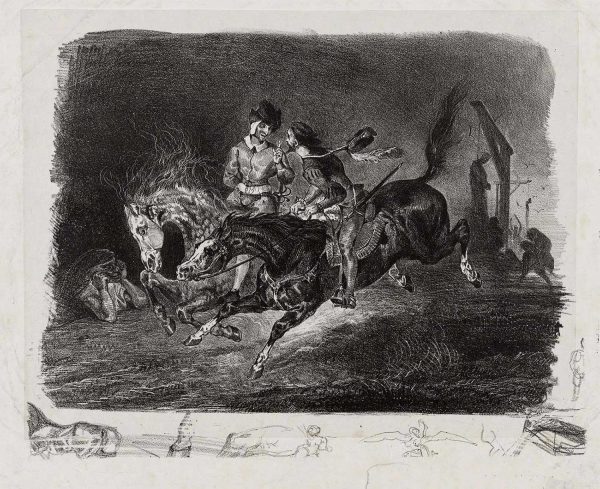 Urs Fischer: PLAY with choreography by Madeline Hollander
Gagosian 21st Street
Through October 13, 2018
Urs Fischer is bored with art, so his solution is to make robotic office chairs that roll around with no visible means of propulsion in response to people in the biggest gallery in the world. How much does such an endeavor cost? How boring it is to have to ask such a dreary question in the midst of all this fun. Just disabuse yourself of the idea that any of this means anything — do not let anyone tell you that — and then you can push thoughts of shepherdess cottages and vomitoriums out of your mind and enjoy it.
I will say: Fischer's chairs are funny. At 1:12 in the video below, this one made me laugh as it circled a couple who looked like potentially serious buyers.