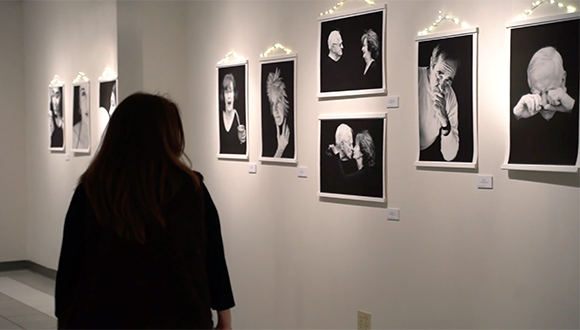 Note: the following is part of Glasstire's series of short videos, Five-Minute Tours, for which commercial galleries, museums, nonprofits and artist-run spaces across the state of Texas send us video walk-throughs of their current exhibitions. This will continue while the coronavirus situation hinders public access to exhibitions. Let's get your show in front of an audience.
See other Five-Minute Tours here.
Cynthia Isakson: We were so happy yet we didn't know at Institute of Hispanic Culture of Houston. Dates: Opening February 13, 2021 | 4 – 8 PM (Reservations required) – February 28, 2021. Guided Tours – By appointment only – Free admission.
Via IHCH:
"An exhibition by the Argentine photographer Cynthia Isakson consisting of 27 portraits and an audio installation. 'When I open my eyes I photograph them when I close my eyes I listen to them. For 25 years I looked at them portrayed them captured them in order to keep them forever. Emigrating and maintaining close relationships seemed to be two incompatible concepts. But they turned out not to be. I see them on my walls and listen to their recorded voices our conversations. And suddenly the language what they say no longer matters. It doesn't matter if they look at me. It doesn't matter if they are no longer here. It's about that feeling that you get when you close your eyes and you don't see them anymore you feel them… .'"