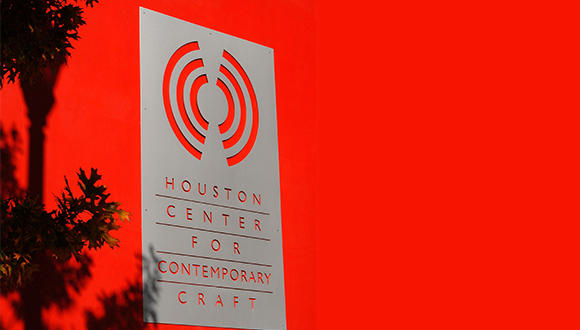 Houston Center for Contemporary Craft has announced an open call for its three-year Curatorial Fellowship, which will take place 2021-2024. The open call deadline is June 14. The grant-funded position seeks a candidate to assist HCCC's Curator Kathryn Hall in developing, executing, and managing exhibitions at or on behalf of the non-collecting nonprofit art institution for craft. Hall is a former HCCC Curatorial Fellow who was appointed to the Fellowship in 2012.
Candidates for the fellowship must have, among others, the following qualifications: "Professional or public experience or Masters Degree in craft, material culture, design history, art history, arts administration, or curatorial/museum studies."
Duties for the Curatorial Fellow include working collaboratively with HCCC staff in the design and implementation of the Center's programming, as well as the following responsibilities: "Researching, developing, coordinating and installing exhibitions, creating program content and interpretative materials, documenting exhibition information, acting as a docent and gallery attendant, and managing a variety of administrative duties."
HCCC seeks an "organized, creative thinker and multitasker who is comfortable working with the public in a collaborative and fast-paced environment." Applicants are asked to email a PDF attachment with the following information by the deadline, which, again, is June 14, 2021:
CV or resume, cover letter, and three professional or academic references.
Please answer the following questions in essay or short answer form (500 words maximum for each question): (1) How did you hear about this position; (2) Describe your interests in the field of contemporary craft, material culture, and/or decorative arts; (3) Describe any experience in working with artists and/or developing and organizing exhibitions; and (4) Outline the professional goals you seek to accomplish or make progress towards as a result of this fellowship.
Two letters of recommendation from an academic and/or professional setting (must be different than references required above) sent directly to the attention of Kathryn Hall (see email and/or address below).
For more about the position, including salary and additional qualifications, as well as the application process, please go here.
****
Houston Center for Contemporary Craft (HCCC) is a nonprofit arts organization founded to advance education about the process, product and history of craft. HCCC's major emphasis is on objects of art made primarily from craft materials: clay, fiber, glass, metal, wood or found/recycled materials.