Para leer este artículo en español, por favor vaya aquí. To read this article in Spanish, please go here.
Sticky from the balmy air, Dallas artist Natalia Padilla and I arrived at our hotel, which was tucked into a colonial bungalow in the San Benito neighborhood of San Salvador. Even though we had ordered two beds, there was only one in the room, so we requested they replace it with separate furnishings. Once our arrangements were complete, Padilla joked to me, "I think we just got divorced." The two of us stick out in El Salvador, the smallest country in Latin America — Padilla's American designer bodysuits and my long dirty blond hair are not seen there often. There was humor in the notion that hotel staff would assume we were a married couple at the time of booking, but upon arrival we were found out to be anything but spousal partners.
Padilla is an artist in Dallas who develops educational programs for city grant projects, like Local, a bilingual guide in English and Spanish for immigrants relocating to Dallas. She was born in Slidell, Louisiana, but spent the entirety of her childhood in El Salvador. After graduating high school, she returned to the U.S. for school. When she asked me if I would like to accompany her on a trip to visit her home country this past winter, I knew that I had a unique opportunity to experience Central America through the lens of someone who is truly bicultural.
And experience El Salvador we did. In El Zonte, we had a chat with Simon Vega, who is represented by Liliana Bloch Gallery in Dallas. In Santa Tecla, we saw folk paintings on the walls of Padilla's grandparents' home. On the outskirts of San Salvador, we walked through the studios of member artists at FAVRIKA, a collective helmed by Ronald Morán. In the center of the capital, we visited the Museum of Art of El Salvador/Museo de Arte de El Salvador (MARTE) to see both Morán's solo exhibition and the Museum's holdings of contemporary Salvadoran artwork. More on that in an upcoming post
Evaluating aesthetics in El Salvador has its paradoxes. Vega clarified this during a chat over coffee: "I have done some curating, mostly because we lack curators." The meat of this sentiment is that El Salvador lacks the infrastructure that is necessary for the art economy that its neighbors enjoy (namely Mexico, but the United States and Guatemala both fall into this category too). This sentiment, that the country's institutions have had difficulty reaching the status of similar organizations in neighboring countries, was echoed throughout the trip. In some circumstances, this was chalked up to El Salvador's well-known status as the smallest nation by geography in Latin America — other countries are bigger, and they simply have more because of it.
Despite this, aesthetics in El Salvador match culture at the street level: they are brightly painted and rustic, with borrowed elements of the country's colonizer nation, Spain. There are shops everywhere that display tiny versions of the El Salvador's icons, including food: pupusas, curtido (a Salvadoran slaw), and red salsa. Things that are traditional are referred to as típico, which sounds as if Salvadorans see the basic necessities of life as typical. Padilla asked me if I could tell that the pace of life in El Salvador is slower than the U.S., and I had to agree. To a vacationer, it felt like a welcome respite. To locals, it is just the way things are; food is cheap, but the menu is limited.
El Salvador has its demons as well. The volcanos cornering San Salvador mean that tectonic activity is always possible, and we felt at least one earthquake while we were staying in the central part of the country. The U.S. travel advisory to El Salvador is currently placed at a three, which is subtitled: "Reconsider Travel." The implication of the advisory is that El Salvador is rife with violence. While older generations will warn against conspicuous displays of wealth or walking unattended after sunset, our experience of navigating across the country, at least most of the time, was as worry-free as ordering a rideshare.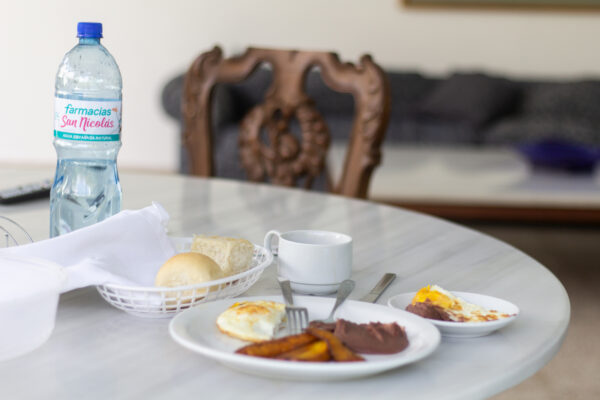 The aesthetics of worry persist across the country, however. The war, meaning the Salvadoran Civil War (1979-1992), is frequently invoked through art, media, and conversation. Morán creates symbols and iconography out of the painful history of the conflict, while Vega makes work about the tendency of colonial empires to prioritize extravagant exploration instead of investing in the places they disrupt. FAVRIKA member Juan Carlos Recinos Guzmán paints portraits at the intersection of lost ethnic identity and existential desire to know one's self.
In El Salvador, national pride comes with criticism. It is another one of the nation's binaries: the invitation to discuss such personal qualms, coupled with an assumed intimacy for the guest. Familiarity and generosity underpin most exchanges, whether it's talking about art or ordering lunch. It's always warm in El Salvador.
In my next post, I will discuss the work of the artists we met in El Salvador.
Translation assistance was offered by Natalia Padilla.
William Sarradet is an Associate Editor of Glasstire.