The 26 artists in Sound as Sculpture (curated by Thomas Feulmer) include Laurie Anderson, Mark Bradford, John Cage, Nancy Holt, Richard Serra, and Bruce Nauman. The range of experiences implied by such a diverse group of A-listers delivers many interesting moments, and some that are altogether thrilling. On a two-hour individual tour several weeks after a press preview of about the same duration, I was able to sample each piece, naturally spending more time with those that induced the most personal delight.
In Anderson's Handphone Table — Remembering Sound, two audio transducers have been embedded in the top slab of a small wood desk. You, the visitor, will sit at the desk, place one elbow on each transducer, and cup your hands over your ears as if your brattiest childhood pouts have been exhumed in the name of sound art. The work honors the human body as a conductor of sound waves, so you may consider yourself an element in a Laurie Anderson work of art, if you so choose (and you really should).
Across the room from Anderson's piece is Extended Lullaby by John Cage, and it's a nice juxtaposition to show how Sound as Sculpture gets more complicated, maybe even problematic, for visitors. The piece is a wall-mounted music box that requires interaction with a human hand in order to play its lullaby, but for this show, that gesture must be executed by a gallery attendant rather than the visitor. It's on loan from a private collection, which is a fine reason not to let everyone touch it, but the attendant said it is played every 10 minutes — whether there are visitors or not. I was the only visitor in the room at the time. A school tour was ahead of me, and individual visits require registration in advance, so capacity should already be controlled, right? I don't understand why Cage's work can't be engaged, if not by the visitor, then by the presence of visitors (if you know the answer or have a solid theory, please share in the comments, it's something I should learn). Since I'd already experienced the rest of the room, I moved on, a little frustrated to be bounced from active participant for the Anderson to passive spectator for the Cage (I did hear the Cage in the press preview a few weeks earlier, but I hate when press gets special treatment, as happens at many large institutions).
The sweetest delights of this show are the immersive experiences, like Alvin Lucier's I am sitting in a room, which has a small space to itself and will likely be your first stop on the tour, or Tomas Saraceno's Sounding the Air, also with a small room to itself. It consists of an enormous strand of spider silk stretched down its length with carbon rods and fishing line, plus some necessary AV equipment hidden by the darkness of the room. It's hypnotic, and visually beautiful, too. Mark Bradford's Spiderman was a favorite among those who saw the Dallas Museum of Art's Truth: 24 frames per second in 2017, but here its volume bullies some of the fainter, more delicate pieces nearby, including one that's dependent on the sound of your own humming (Adrian Piper, The Humming Room).
Sound is an interesting problem for an art show. Should you use headphones? Set the sound free in a so-called controlled environment? I attended an opening a few years back in an empty, art-deco, former museum with atrocious acoustics. The top floor was dedicated to video pieces, all with sound, all drowned and destroyed by the opening party and live DJ. No one thought that might be a problem. So it's nice to see Feulmer's challenges met with decisiveness, even when the outcome isn't quite ideal.
I found it hard to walk away from Bruce Nauman's immersive Acoustic Wedge (Sound Wedge—Double Wedge) — I loved it so. A walk-in piece made of wallboard and an unspecified "acoustic material" narrows to a V-shape, like a tiny but still immersive mock up for something Richard Serra might be planning. It's not much to look at, but when you're inside of it, the energy shifts — your energy shifts — by radical shielding of external noise with each small step inward. It holds a womb-like safety, an escape from anxiety that I've experienced twice before through art in Texas: Martin Creed's Half the air in a given space at the Nasher Sculpture Center way back in 2011, and Robert Irwin's permanent piece at Chinati, untitled (dusk to dawn). Those three works are/were profound experiences that I hope to revisit someday.
Sound as Sculpture is a big exhibition, and a good one. I went twice and might go again before it closes. Be willing to go with the flow: here-immersive, there-interactive, and right across the room, just stand back and listen. I almost wrote "passive," but it wouldn't be true; sound is a medium of time as well as space (the waves, the waves), and you can't choose not to hear it. Once you enter its space, it's coming straight for you.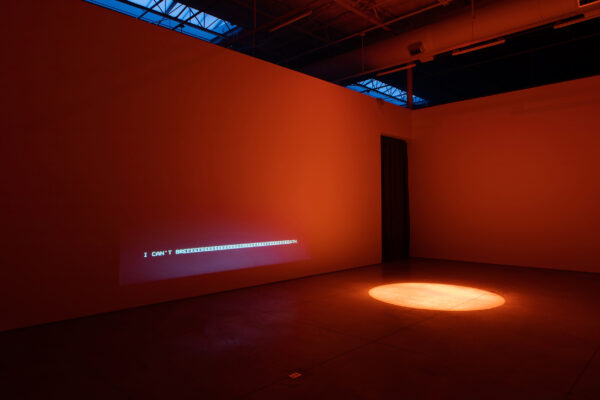 Sound as Sculpture runs through May 28, 2022 at The Warehouse, 14105 Inwood Road, in Dallas.  Admission is free but online registration is required.