Glasstire counts down the top five art events in Texas.
For last week's picks, please go here.
1. From Boom to Bust: Modernism, Regionalism, & Social Realism (1920-1940)
Wichita Falls Museum of Art
October 20, 2022 – February 4, 2023
From the Wichita Falls Museum of Art:
"From Boom to Bust invites twenty-five American artists from three different movements into conversation about the art, literature, and film they produced between the two World Wars. Some of America's most important artists and writers of the 20th century have a seat at the table—Charles Sheeler, John Dos Passos, Edward Hopper, Upton Sinclair, and more. Some were friends; some foes. Some avant-garde; others traditionalists. Modernists. Regionalists. Social Realists. Americans all."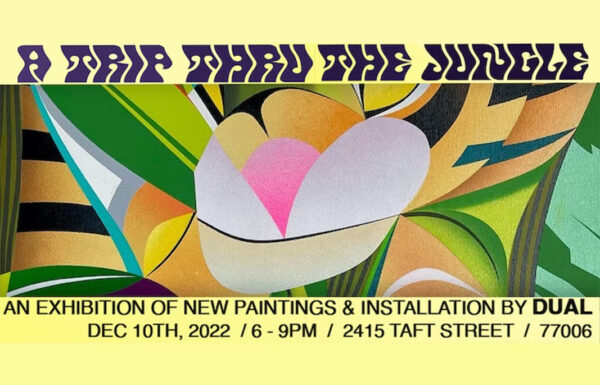 2. DUAL: A Trip Thru the Jungle & Russ Rubin: Lost and Found
Reeves Art + Design (Houston)
December 10, 2022 – January 7, 2023
From Reeves Art + Design:
"For this December exhibition at Reeves Art + Design, Texas artist DUAL looks to transport the viewer from the urban streets of Houston to the lush jungle of the Amazon. Debuting sculptures, paintings, and video installations, his work explores not only the rainforest habitat, but the animal inhabitants that populate the environment as well. His bold lines and fresh colors are a break from the everyday monotony of life in the city. Through a blending of an urban subculture aesthetic, with the rich diversity of the rainforest, DUAL plans to give the viewer the sense that the gallery has been overgrown by the jungle environment.
"In Reeves Art + Design's show, Lost and Found, Russ Rubin aims to transport you to another dimension, where the pragmatic falls away and only an offbeat beauty and the thrill of escape remain. Stare into his vintage gilt portals and you're absorbed into a symphony of muted desert hues and otherworldly landscapes begging the viewer's exploration. Two light-up sculptures at human scale, collaborations with the Utah-based artist Sydney Smith, titled 'Lost' and 'Found', speak to a connection over a distance; togetherness and loneliness hand and hand, in painted-up cacti-promorphic figures each ogling the other across the great plain of the gallery floor."
3. Jade Walker: Wayfinding
Women & Their Work (Austin)
January 7 – February 23, 2023
From Women and their Work:
"In her large-scale installation, Jade Walker uses color, weaving, rope, tools, notions of signage, and found objects to articulate questions around how we engage with our environment and the effect that this relationship has on our society.
Wayfinding asks: do we embed in our landscape or do we attain places to hold as our own? Influenced by the Modernist writer and poet, Nan Shepherd, nature writer and linguist, Robert Mcfarlane, and textiles as a form of universal language, Walker's exhibition includes architectural interventions as well as intimate embellishments of familiar tools and found natural elements. Inquiries into our intentions for cohabitating with nature on this planet point directly to the need for wayfinding as we navigate the environment for ourselves and for future generations."
4. Consuelo Jimenez Underwood: One Nation Underground
Ruiz-Healy Art (San Antonio)
November 2, 2022 – January 28, 2023
Read Barbara Purcell's review of the exhibition.
From Ruiz-Healy Art:
"Ruiz-Healy Art is pleased to present two concurrent solo exhibitions from Consuelo Jimenez Underwood at both our San Antonio and New York City galleries. In 2022, the artist was awarded the Latinx Artist Fellowship, a first-of-its-kind initiative that recognizes 15 of the most compelling Latinx visual artists working in the United States today. The artist is also the subject of a publication, Consuelo Jimenez Underwood: Art, Weaving Vision, a recent comprehensive analysis of her work and impact on feminist textile art history. This is the artist's first solo exhibition with the gallery."
5. Nobody's Ark: Ceramics by Panacea Theriac
Webb Gallery (Waxahachie)
November 6, 2022 – January 22, 2023
From Webb Gallery:
"Panacea was a Joan Mitchell resident in New Orleans last year when she began this new puppet show idea and the ceramics to mimic and support it all. She is known worldwide for her puppets, puppet shows, music and visual artwork. Last year the Ohr-Okeefe Museum in Biloxi, Mississippi hosted an exhibit for Panacea which included many ceramics, there were ceramic tickets for puppet show, and punch was served from a Panacea made punch bowl & cups. We are THRILLED to host this exhibit here in Waxahachie! All artwork will be online. Gallery is open by event, appointment & luck."