The Idea Fund, a Houston-based re-granting program funded by The Andy Warhol Foundation for the Visual Arts and administered by DiverseWorks, Aurora Picture Show, and Project Row Houses, has announced 12 projects selected to each receive $5,000 for 2023.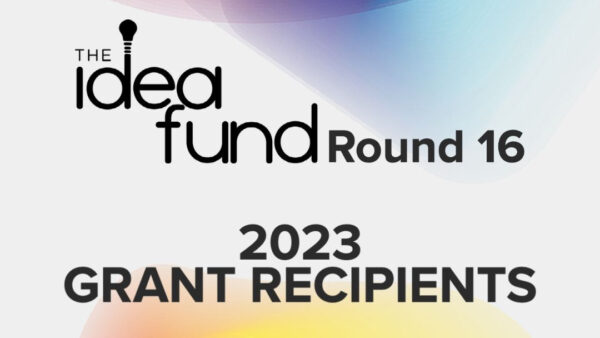 Now in its 16 round of grants, The Idea Fund has supported more than 150 art projects involving over 500 artists and collectives. This year was juried by a panel that included Mesha Arant, Manager of Administration and Programs at 3Arts in Chicago, Illinois; Vinod Hopson, artist and Idea Fund grantee, Rounds 8 and 15, Houston, Texas; and Leslie Raymond, Executive Director of the Ann Arbor Film Festival in Ann Arbor, Michigan. 
This year's recipients includes 10 individual artists and 2 collectives exploring an array of topics, including Black culture, Queer cinema, communities facing gentrification, and society's relationship to nature. Selected projects include installations, workshops, film screenings, and more. Learn about the selected projects below, via descriptions provided by The Idea Fund.
Tay Butler – The Play
The Play is a live performance and installation work that reorients basketball away from an output of Black culture, and reframes the sport as a tool to serve Black culture. With support from The Idea Fund, Mr. Butler will develop a live performance and installation work intended to bring viewers into the entanglement of community, collective assembly and the uncertain path to achieve basketball greatness. 
Baird Campbell – The Big Queer Pop Up
The Big Queer Pop Up seeks to expand the reach of queer cinema beyond traditional cinematic spaces through pop-up screenings in community centers, bars, parking lots, and other public spaces. As a guerrilla-style initiative, this project will allow The Big Queer Pop Up team to meet queer people where they already are and activate existing community hubs through projection, and not in the rarified spaces to which queer film is often relegated.
Brian Ellison – Napoleon's Vanishing Point
With support of The Idea Fund, Mr. Ellison will develop the community film Napoleon's Vanishing Point. Asking –What would it look, sound and feel like to capture a community that is rapidly disappearing due to being swallowed by gentrification? Napoleon's Vanishing Point tells the story of Mr. Ellison's neighborhood in Houston's Third Ward and the people in it. His block is one of few blocks that still communes daily via barbecue, card games, music, dominoes, disagreements and laughter.
Jake Eshelman – (Bio)Diversity Bonds: Mapping Houston's Ecological Heritage through Native Bees
(Bio)Diversity Bonds is a hybrid art exhibit and guided nature walk with the Houston Arboretum. (Bio)Diversity Bonds empowers Houstonians to identify, celebrate, and support the many native bee species that have helped create the unique coastal prairie ecosystem that cradles our city, its people, and our astounding (bio)diversity. With support from The Idea Fund, Mr. Eshelman will conduct a visual field study of local pollinators in the Houston Arboretum prairie and develop an expert-led community nature walk that enables participants to meet and identify our native bee populations firsthand.
Marley Foster – Flag Diary (What Protects)
Flag Diary (What Protects) is a new program of public works developed through a series of community quilting workshops. With support of The Idea Fund, the workshops will accompany an exhibition of the same name at Art League Houston. Workshops will focus on patchwork patterns and embroidered text, considering quilts as familial diaries and testing how these complicated objects speak the language of public discourse.
Naomi Kuo – Garden Connections
Garden Connections is a project that traces the web of relationships that are built up over the exchange of seeds, home-grown veggies, and gardening know-how in the Asian American communities of Houston. Through documentary mixed media zines and garden exchange events, Ms. Kuo will use their Idea Fund grant to expand on the healing potential of these everyday practices and to celebrate the concrete bonds that help keep communities together.
Ruhee Maknojia – Outdoor Animation Screening
Animation artist Ruhee Maknojia will use their Idea Fund grant to develop and present a series of outdoor animation screenings in the Greenspoint Mall parking lot as a way to highlight international and Houston-based animation artists outside of the city center. 
Matt Manalo – Alief Art House Residency
With support from The Idea Fund, Mr. Manalo will develop and host the Alief Art House Residency, a three-week long residency for a high school Senior to explore art-making and have full creative freedom in the Alief Art House shipping container gallery.
Eileen Maxson – Heirloom Haggle with the Maxsons
Tempered with good humor and influenced by audience engagement, Heirloom Haggle with the Maxsons, is a series of livestream videos in which artist Eileen Maxson's parents try to convince her to inherit their most beloved "stuff." The multiple livestream "episodes" will be a twist on the Antiques Roadshow TV series and focus on items from Ms. Maxson's parent's massive collection of porcelain collectibles, Hummel figurines, fine china, and crystal stemware.
Alexis Melvin – Trans History Roadshow
The Trans History Roadshow is an educational TV Show that will air locally in Houston and be made available for viewing online. Modeled after BBC/PBS series "The Antiques Roadshow," the Trans History Roadshow will feature guest experts presenting examinations and explanations of select art and rare historical artifacts from Houston area transgender art and history archives.
Lorena Molina – At what cost? (working title)
With the support from The Idea Fund, Ms. Molina will develop a large corn maze installation with over 2000 pieces of dried corn stalks inside a gallery to discuss topics of immigration, safety and freedom, and who gets to feel safe and free. The installation will ask visitors to consider their instincts in the process of moving through the maze while highlighting the challenges of diasporic journeys and immigration experiences. 
Sarah Sudhoff – Exit Interview
Exit Interview is a multi-sensory exhibition that invites the Houston public to give voice to an unheard conversation they were either never given permission or never had the opportunity to have with a romantic partner or loved one. With support from The Idea Fund grant, Ms. Sudhoff will develop a series of new works through community collaborations that will harness and embrace our collective humanity through shared humor, love, sadness, and perseverance.