Glasstire counts down the top five art events in Texas.
For last week's picks, please go here.
1. Jacolby Satterwhite: We Are In Hell When We Hurt Each Other & Leslie Martinez: The Secrecy of Water
Blaffer Art Museum (Houston)
January 20 – March 12, 2023
From the Blaffer Art Museum:
"For over a decade, Jacolby Satterwhite has used 3D animation, sculpture, performance, painting, and photography to create fantastical, labyrinthine universes. Exploring the themes of public space, the body, ritual, and community, Satterwhite draws from an extensive set of references guided by queer theory, Modernist tropes, and video game languages to challenge conventions of Western art through a personal and political lens. An equally significant influence is his late mother, Patricia Satterwhite, who lived with schizophrenia and made ethereal vocal recordings as well as drawings and diagrams for visionary household products throughout Satterwhite's childhood. His mother's work often serves as the source material within a decidedly complex structure of memory and mythology.
Martinez (they/them/their) creates immersive, spellbinding paintings that explore ideas of place, climate, landscape, and personhood through unconventional methods of applying and interlaying various materials, textures, and hues on canvas. Their signature style of abstract painting features viscerally tactile and spatial atmospheres created with physical ingredients like fabric rags, recycled clothing, and crushed stone that reveal discordant visual intersections of destruction and emergence."
2. Candace Hicks: Understanding Coincidence in the Multiverse
Ivester Contemporary (Austin)
January 21 – February 25, 2023
Learn more about Candace Hicks here.
From Ivester Contemporary:
"Ivester Contemporary is proud to present, Understanding Coincidence in the Multiverse, an exhibition of new work by Candace Hicks. This exhibition features two of Hicks' ongoing series; her 8 x 10.5 inch hand embroidered compositions on canvas she calls Notes for String Theory as well as her multi-page hand embroidered book works titled String Theory. Both of these series focus on literary coincidence and Hicks' fascination with the phenomenon of learning a new word or hearing about something in particular only to begin seeing it seemingly everywhere or reading the same unique phrase or idea in more than one book in short succession."
3. Gabrielle Goliath: Chorus
Dallas Contemporary
September 25, 2022 – March 19, 2023
Read our end-of-year review of the show here.
From dallas contemporary:
"dallas contemporary presents the first exhibition in the united states by south african artist gabrielle goliath. goliath situates her practice within contexts marked by the traces, disparities and traumas of colonialism and apartheid, as well as socially entrenched structures of patriarchal power and rape-culture."
4. Margo Sawyer: The Presence and Absence of Color
Neidorff Art Gallery (San Antonio)
January 18 – February 11, 2023
From the Neidorff Art Gallery:
"The Presence and Absence of Color is an installation created specifically for Trinity's Neidorff Art Gallery. Comprised of large sculptural works, etched mirrors, colored acrylic and glass, reflective orbs, and myriad other objects, the installation explores the relationship between space, light, pattern, and form. The Presence and Absence of Color creates an experience of contemplation, reflection, and transcendence for the viewer."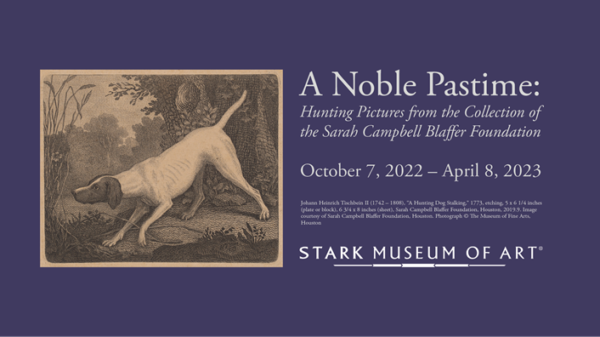 5. A Noble Pastime: Hunting Pictures from the Sarah Campbell Blaffer Foundation
Stark Museum of Art (Orange)
October 7, 2022 – April 8, 2023
From the Stark Museum of Art:
"This exhibition features a subject that is familiar to Stark Museum attendees—that of hunting, but from a different perspective, the European historic view of hunting. The hunt has been a pervasive theme in western art and literature since the time of ancient Greece. The sport, often approaching the status of ritual, was generally heavily regulated and restricted to the nobility, with violators subject to strict penalties including, in some cases, death. A Noble Pastime includes sixteenth- to nineteenth-century representations of various aspects of the chase, such as hunting expeditions, game pieces, and portraits of hunters as well as animals. This exhibition seeks to illuminate various hunting methods, to underscore the role of the hunt as an exclusive pursuit in early-modern European culture, and to emphasize the use of hunting imagery as a conscious tool for fashioning one's self-identity."