Glasstire counts down the top five art events in Texas.
For last week's picks, please go here.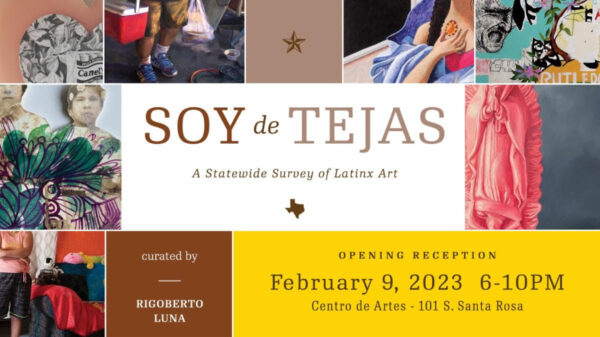 1. Soy de Tejas – A Statewide Survey of Latinx Art
Centro de Artes (San Antonio)
February 9 – July 2, 2023
From Centro de Artes Gallery:
"Soy de Tejas presents the works of forty native Texan and Texas-based contemporary artists who reflect the diverse and beautiful complexity of Latinx identities. Curated by Rigoberto Luna, the more than 100 artworks filling the two-story exhibition forge new connections and explore intersections from a nexus of artists who ambitiously blaze a trail of contemporary artmaking, presenting fresh Latinx perspectives and experiences while amplifying the voices of a segment of Texas' most inspiring established and emerging artists."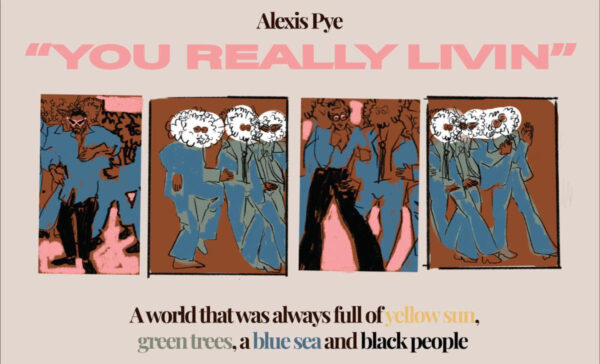 2.Alexis Pye: You really livin: A world that was always full of yellow sun, green trees, a blue sea and black people
Lawndale (Houston)
February 3 – March 11, 2023
From Lawndale:
"The show's title pulls from Jamaica Kincaid's On the Necessity of Gardening: An of Art, Botany and Cultivation (Valiz 2021), where she writes of the Dominican Republic as 'a world that was always full of yellow sun, green trees, a blue sea and black people.' In Pye's words, this exhibition's title similarly references 'the Yellow sun that seemed to peek out of the cloudy overcast days in Detroit, lush trees that lined neighborhoods and took over abandoned houses, the Blue water of Bel Isle,' and the community of people who have gone in and out of Pye's life."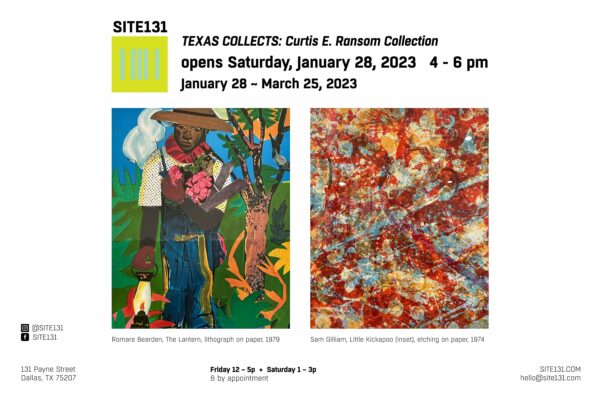 3. TEXAS COLLECTS: Curtis E. Ransom collection
SITE131 (Dallas)
January 28 – March 25, 2023
From SITE131:
"TEXAS COLLECTS: Curtis E. Ransom, features forty artworks by African American artists. As a highly private African-American collector, Mr Ransom has assembled his personal holdings for 30 years. The collection features mid-sized paintings and works on paper from the mid 1940s to present day.
The new SITE131 series presents highly motivated collectors who generously share their private holdings. The inventive series began in Fall 2021 with the private, unknown holdings of emerging artists in The Rachofsky Collection. The presentation of Rachofsky's young art birthed the idea for SITE131 to feature other unknown generous collectors in North Texas willing to share their collections.
Curtis Ransom's collection on view includes two major works by artist Jacob Lawrence exhibited at the Dallas Museum of Art (DMA) in 2010. In that exhibition of Lawrence's work, Ransom lent 15 prints from the Toussaint L Ouverture series. Other more popular artists on view include Sam Gilliam, Romare Bearden, Norman Lewis, Elizabeth Catlett, Sam Middleton, and Dallas artists Frank Frazier and Johnice Parker."
4. Matthew Craven: MULTI~CURSAL
David Shelton Gallery (Houston)
November 18, 2022 – February 28, 2023
From David Shelton Gallery:
"David Shelton Gallery is pleased to present MULTI~CURSAL, which features new collage works on paper by Matthew Craven. Craven has long been interested in the universality of symbols and patterns referencing textiles, painted pottery and mosaics from across the world. Newfound elements have emerged, extracted from botanical encyclopedias and Historical textbooks. Focusing entirely on vintage collage elements, the large pieces in this exhibition are bursting with a dizzying array of patterns and colors and entirely composed of found materials, some over 50 years old. All of the work is composed on the reverse sides of vintage B-movie posters, forming each work's foundation–patinaed, browned, stained or torn from a previous life. Where previously the artist drew inspiration from travel and in-person visits to book shops across the country, strict lockdown orders and a relocation have turned his references inward.
Now living the in San Francisco Bay Area, Craven's life has become connected to his partner's career as a florist. Going on flower walks became a needed routine during the pandemic. Slowly, the imagery from the walks became the focal point of this new body of work. The laborious and time-consuming process of these creations requires slowing down, it's a form of meditation."
5. Seeing is Believing
Tyler Junior College-Jenkins Hall
January 17 – February 17, 2023
From the organizers:
"An exhibition featuring work by Tyler Junior College's six full time art faculty: Chance Dunlap, Rebecca Hollen, Paul David Jones, Paula McDermott, Amanda Slaughter, and Derrick White."