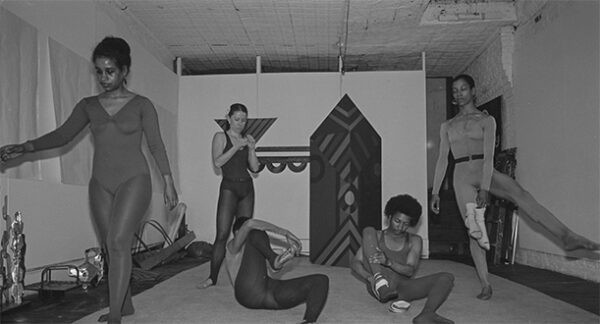 Note: the following is part of Glasstire's series of short videos, Five-Minute Tours, for which commercial galleries, museums, nonprofits and artist-run spaces across the state of Texas send us video walk-throughs of their current exhibitions. This will continue while the coronavirus situation hinders public access to exhibitions. Let's get your show in front of an audience.
See other Five-Minute Tours here.
Ellsworth Ausby: Odyssey at the Houston Museum of African American Culture. Dates: February 4 – April 8, 2023.
Via HMACC:
"The Houston Museum of African American Culture presents Ellsworth Ausby: Odyssey, a posthumous exhibition of paintings by the artist Ellsworth Ausby, who died in Brooklyn in 2011. The HMAAC exhibition primarily focuses on the Afrofuturist abstract painter's work on cut canvas from the 1970s which embodies his vibrant geometric forms that reflect his achievement of liberating the canvas from rigid structures, allowing them to float freely on the walls and spaces they occupy.
Although one of Ausby's paintings Untitled (Space Odyssey), finished in 1980, was the inspiration for the exhibition title, it also references Untitled, 1974 which fuses elements of African sculptural forms and speculative cosmic vessels to transport us across space and time through an incredibly vivid painting. The exhibition will feature 18 works that Ausby created between 1970 -1976, including Space Odyssey from 1980."