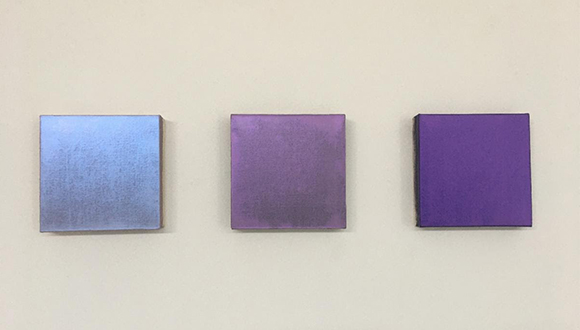 Note: the following is part of Glasstire's series of short videos, Five-Minute Tours, for which commercial galleries, museums, nonprofits and artist-run spaces across the state of Texas send us video walk-throughs of their current exhibitions. Let's get your show in front of an audience.
See other Five-Minute Tours here.
David Simpson: Interference and Paintings From The 80's at Gallery Sonja Roesch, Houston. Dates: June 17 – August 12, 2023. 
Via the gallery:
"Light is a key element in David Simpson's timeless paintings. Iridescent interference pigments are mixed with acrylic paint to achieve fascinating shifts in light and color such as orange to purple, metallic-green to blue, or silver to light blue. The surface of the paintings are ever changing depending on the lighting conditions, the time of the day. and the position of the viewer. The paintings encourage the viewers to move in the space around them to see the paintings in different distances and angles.
David Simpson was born in 1928 in California and is an integral part of American Art History. His paintings reflect a complex connection to the history of postwar painting in the United States descending from mid-century monochromatic and color-field painters such as Ad Reinhardt, Mark Rothko, Robert Ryman. Simpson's own concerns tend to align him with the contemporaneous California-based Light and Space movement, in which artists like Irwin and Turrell developed new approaches in working with light, space, and perceptual phenomena."