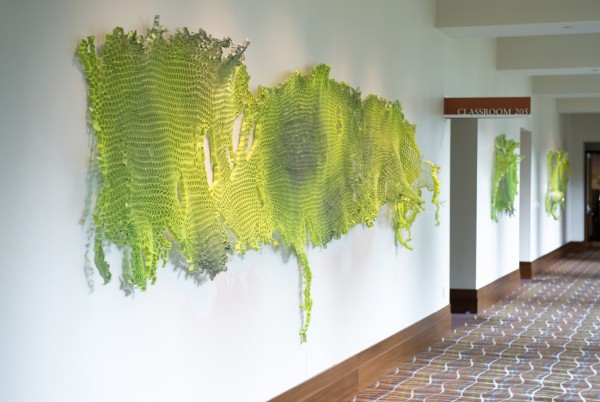 Any visitor to the Blanton Museum who, upon exiting, is not quite ready to go home, should be aware that about hundred paces west on Martin Luther King Jr. Boulevard is the AT&T Executive Education and Conference Center. Inside it is the the Courtyard Gallery, which can only found by going on a scavenger hunt through the jungle of a modern commerce convention. Going through the front doors, there is to be found any number of business travellers and people of industry dressed in regulation semi-casual attire, looking for coffee, examining laptop screens and cell phones, and either leaving or entering conference rooms. If it's around lunch time, many will be eating. The courtyard itself is up a flight of stairs, is part of a restaurant, and the restaurant part of a hotel. The overall vibe of the hotel is that of an office building combined with a new university wing. It seems like a strange place to look at art.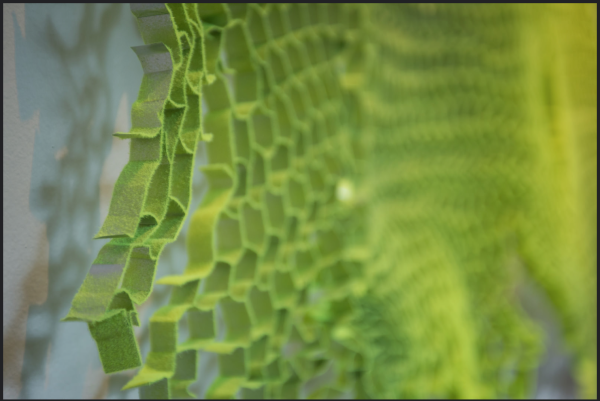 The gallery is, in fact, a single wall in a wide hallway with one side finished with huge windows looking out onto the courtyard. The opposite side is the temporary home to a wall installation by Jeff Williams called Electrostatic. Much of Jeff Williams' work seems to point to certain effects that the inevitability of gravity and pressure may have on materials that are commonly found in both human dwellings and utilitarian architecture. Compression and Tension Table (2012) is an experiment in slowly bending interlocking stacks of concrete slabs with clamps until the slabs fracture. Here, Electrostatic runs the length of the gallery corridor and is broken into three bent, rolling pieces of steel, warped, and imbued with the colors of overgrown decay. The nylon locking fiber pieces are painted a florescent green that is dusted with a type of unclassifiable grime. The colors have a quality similar to pond scum or algae that grows on the rocks of a polluted urban stream.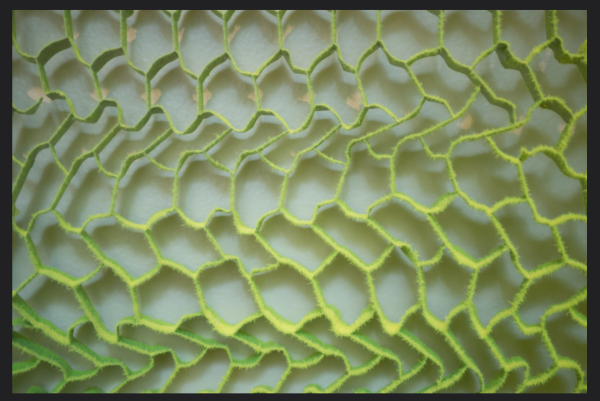 Even though Electrostatic was not designed to be shown at this specific location, there is one overwhelming quality of the piece that lends itself to the environment of this building and its humming atmosphere of the first-world business conference: honeycomb. The steel, at first resembling torn fisherman's net, is actually honeycombed steel mesh with cells about two inches in diameter. From the courtyard outside the sculpture appears through the glass as pieces of an industrial skeleton rupturing out from inside the hive walls, a hive that moves with the buzzing of business strategy plans and spreadsheets. The shape and design of a honeycomb itself is used in PowerPoint presentations every day as a diagram of business policy. What else could an executive education and conference center be if not a series of worker cells in a structure that is simultaneously growing and decaying and that may even resemble a larger corporate entity? Perhaps even an entity that resembles AT&T. Then again, maybe the colors of Williams' honeycomb are not that of decay at all, but of what could be imagined as nuclear energy. Energy giving life to fluorescent electricity. The electricity that moves and hums within the walls of modern buildings that serve as economic ecosystems for offices and businesses. Maybe this is not such a strange place to look at art after all.
Images courtesy UT Austin.